So, today we were at a school that wanted a review of all their technical systems: stage rigging, lighting, audio, video, curtains – everything.
As usual, the first thing that we found was unsafe stage rigging as well as unsafe stage practices such as building sets, suspending sets, etc. [Which is the subject of another little article: Sound in Schools Part 2]
The next discovery was lack of skills in knowing how to do lighting.
But the number one thing that came up, and it almost always does, is bad audio. Years ago someone wrote a book with the title "If Bad Sound Were Fatal, Audio Would Be The Leading Cause Of Death" [authors Don & Carolyn Davis] Yes, bad sound is a universal problem and, truly, the number one complaint from schools for their theater productions, as well as for just day-to-day meetings, lectures, etc.  No one can seem to get audio to work. So, why is that?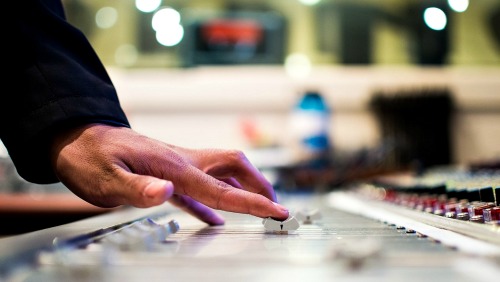 Audio is not a Technical Skill
We were trying to explain to them why it is so difficult to get audio to work. And the first misconception that they had, as well as everyone else seems to have, is that audio is a technical skill. Audio is not a technical skill. Audio is a musical skill and, unless you have musical capabilities, you are never going to successfully do audio.
What do we mean by "musical capabilities?"  It means that running audio for any kind of function is similar to learning how to play a musical instrument. On an instrument if you play something in the wrong key everybody knows. It is immediately apparent. They don't look at you and go "gee, I wonder what is going on with that instrument?" They just go "He's wrong. Let's fire that guy."
In audio, when people get bad results whether its poor tone quality, muddy sound, feedback, screeching – take your pick of aberrations that people get –  it is all bad sound. When people look at how to get this to stop, they think somehow that there is a magic fix to it. Usually, they think it means buying new gear. Wrong.
People assume that in all circumstances getting new gear will fix all audio regardless of who is using a mic, how they are using a mic, what their voice sounds like, what else is going on in the room, etc. That simply is not the case.
Another thing we hear a lot is directors telling their sound people to "get it set" and just leave it alone. Sure, if everything else doesn't change at all ever. That scenario hardly ever happens.
So, the first misconception is that the fix is a technical skill. It is NOT. It is a musical skill! So that means the person doing audio should be able to play an instrument. They need to be constantly staying top of the changes happening on the source end, level, EQ, etc….on the fly.
That person has to be able to identify frequencies by octave band, at minimum. Third octave band would be even better so that when they hear something they will recognize " oh, that is this frequency that is out of control. I need to fix that." 
So, that is the first set of skills. Develop self-ear-training. Ear training is best learned from a musical perspective. You can teach it to a technical person who is non-musical but it is a lot more difficult.
So you get this person, now, and you get him/her to the point where they actually have an idea of what certain frequencies sound like. That way when someone is performing and the sound person hears something they don't like, they can say "oh, that is 250hz, if I can take some of that out they will stop sounding so "chesty" and the audio quality will be better."  Or "that squeal I am hearing is 8khz. I can pull the filter out and get rid of the feedback problem." So they've got that skill, that's great. You are on your way.
That is one microphone, one person. [More to come in our next installment: Sound in Schools Part 2! ]
/
Copyright AVL DESIGNS INC. 2021+