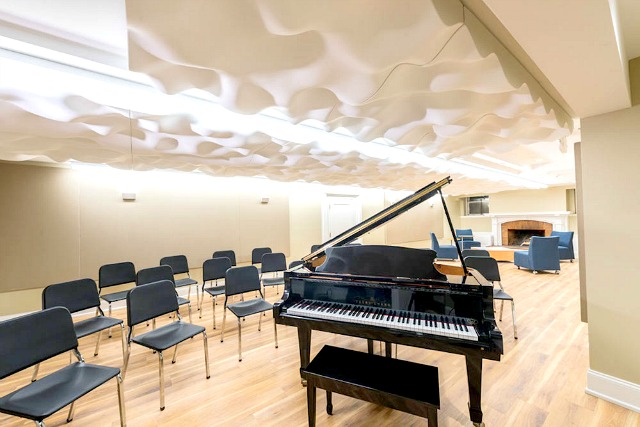 Canisius High School Buffalo New York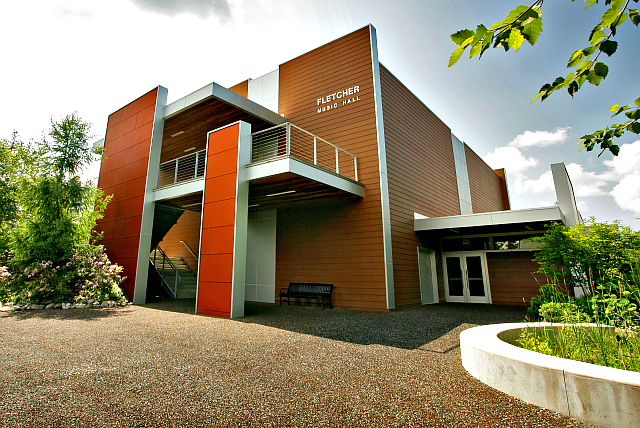 Chautauqua Institution - Fletcher Hall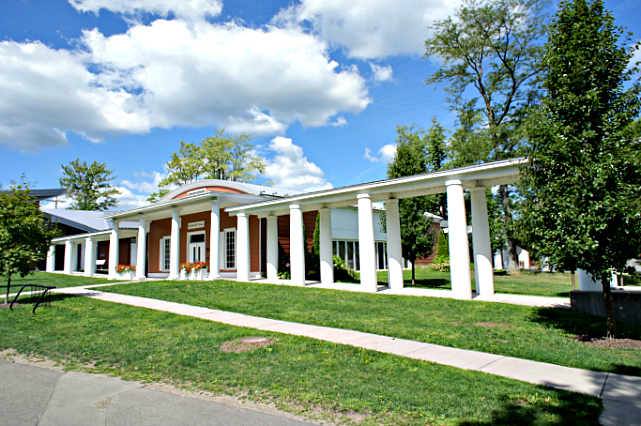 Chautauqua Institution - McKnight Hall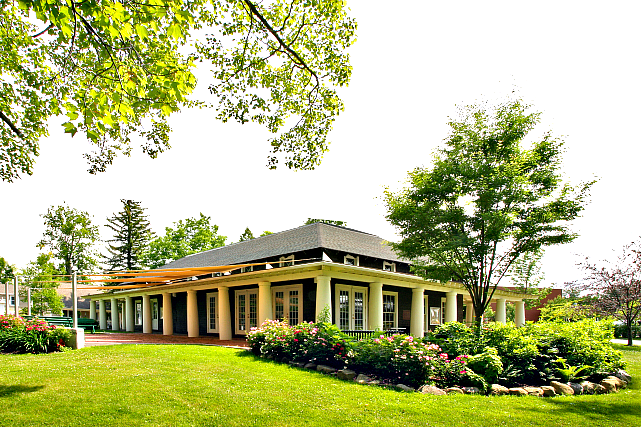 Chautauqua Institution - Sherwood Hall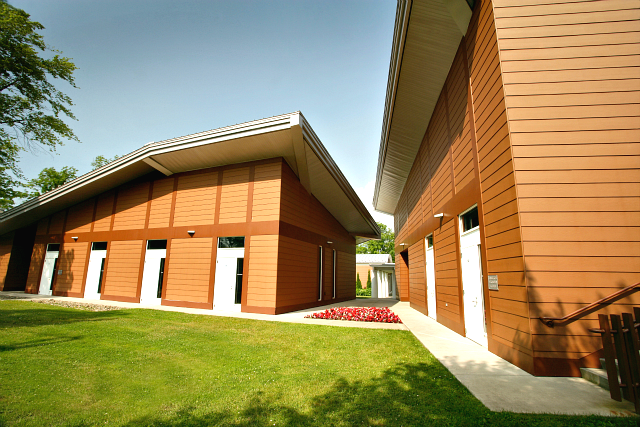 Chautauqua Institution - Teaching Suites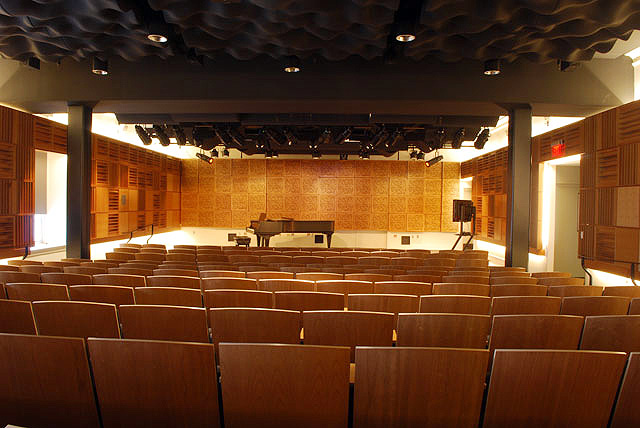 Ciminelli Recital Hall - State University College at Buffalo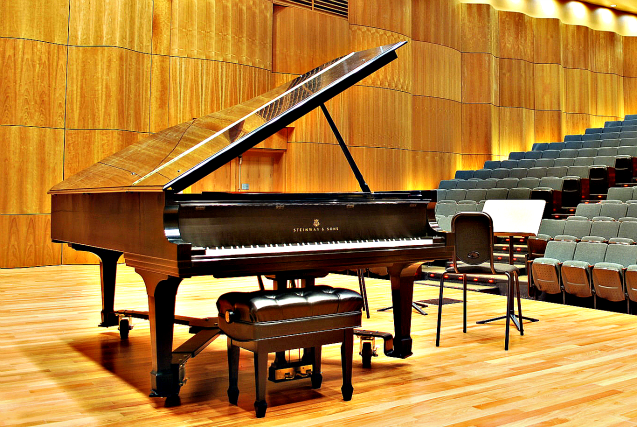 College Of Saint Rose Picotte Recital Hall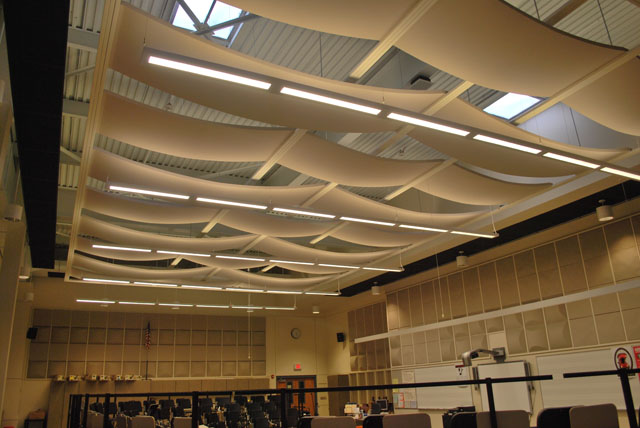 Phoenix Central Schools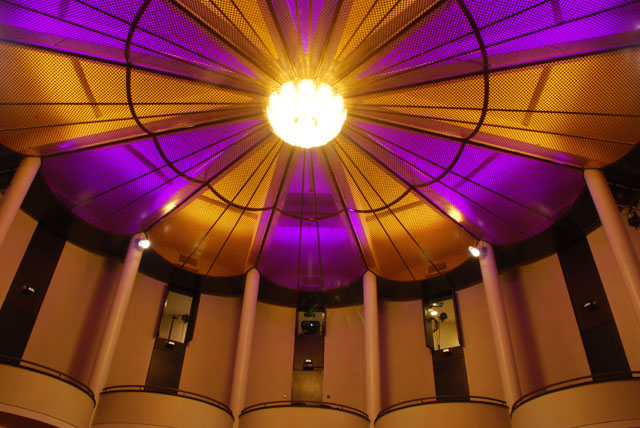 SUNY Albany Recital Theater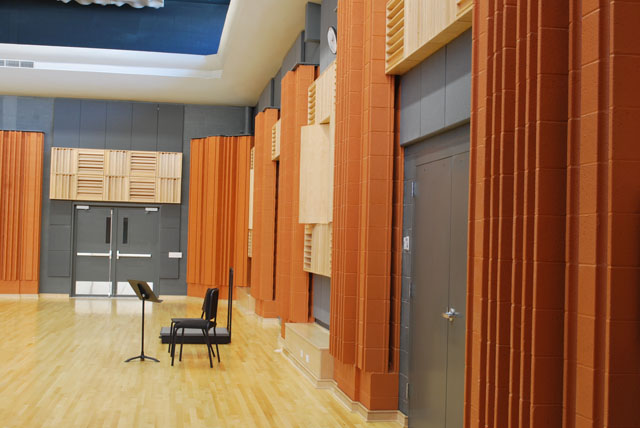 SUNY Fredonia Mason Hall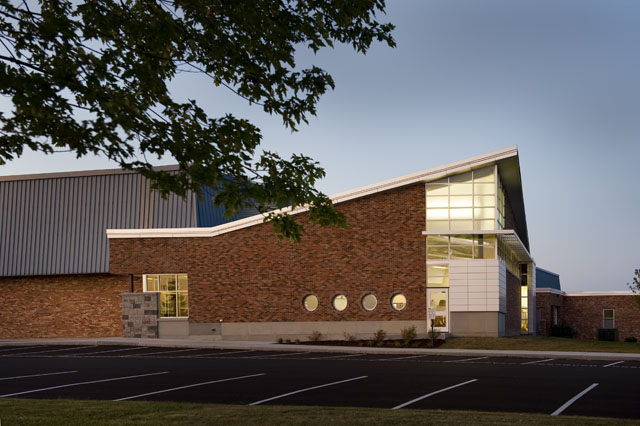 Thousand Islands Schools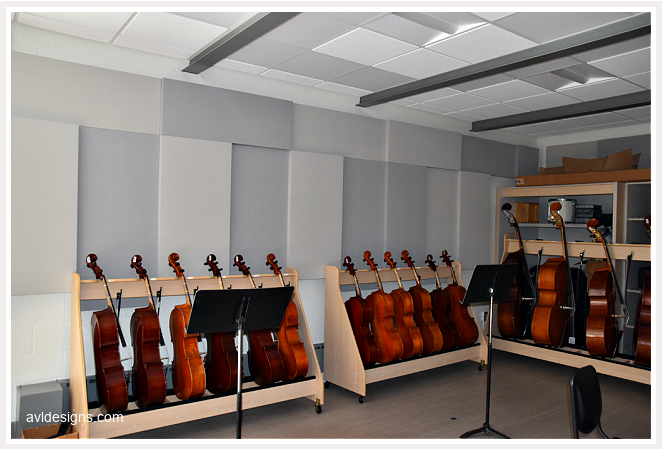 Williamsville Central School District
Canisius High School Buffalo New York

When older buildings are being converted for new uses, it is always a challenging endeavor. If the conversion of that edifice is for musical use, it really puts your design skills to the test. Canisius High School in Buffalo New York made the decision to convert the century-old building into a fine arts center housing multiple rehearsal spaces, practice rooms and a small recording studio. AVL Designs Inc. was procured to provide acoustic design for the spaces. Many of the spaces were lower in height and oddly shaped, which definitely affects acoustics. It was important that we make the spaces sound larger than they actually are, so overhead diffusion was introduced. Diffusive canopies make rooms sound larger as well as evening out the response over the ensemble. Frequency specific absorptive panels were also utilized to balance the frequency response for the spaces, for each ensemble type.

Chautauqua Institution - Fletcher Hall

Fletcher Hall was a new freestanding recital hall to be built at Chautauqua. The intent was an acoustical space well-suited for small ensembles and specifically for string and brass departments. The space was to include retractable seating so it could also be used as a large rehearsal space. Extensive use of diffusive ceiling clouds wall elements, as well as absorptive elements, provide a space that is truly multi-purpose and is been well received by performers and students alike

Chautauqua Institution - McKnight Hall

McKnight Hall is located in an existing space on the campus of Chautauqua Institution which is, in essence, a barn-like structure. There was no permanent seating in the space. The barrel vaulted wood ceiling was creating a highly reverberant sound-field that also caused problems due to focusing affects. The design intent was to provide a space for both performances and rehearsals and allow performances to be heard outdoors, as the glass window walls could be opened during the summer. This approach required that energy be directed down and out the sides of the building to people seated on the lawn. AVL Designs Inc. used shape-optimized ceiling clouds to diffuse and distribute sound throughout the space. When used in this mode, music from large ensembles is well projected outside to the lawn while performers are easily able to hear each other within the room due to the diffuse nature of the design. Retractable audience seating was added for performances as well. The space is now considered to be a favorite on campus for rehearsal as well as performance of various types.

Chautauqua Institution - Teaching Suites

AVL provided acoustical design and noise control design for numerous new and renovated spaces of at the Chautauqua Institute music facilities located in Chautauqua Lake New York. This prestigious summer music school is home to a community of professional musicians teaching extensive programs to students from around the country. The renovations included 27 new teaching spaces designed for acoustic isolation and interior performance quality. Also included was the renovation of McKnight Hall recital space used primarily by the vocal Department. This award winning renovation added seating, interior acoustic improvements, and air conditioning to make the hall more suited to a variety of musical performance. It also provided for open air concerts via side entry sliding walls. AVL Also provided design for a new recital hall at Chautauqua – Fletcher Hall. The design was challenging with a tight budget, but yielded a flexible space enjoyed by many departments at the Institute

Ciminelli Recital Hall - State University College at Buffalo

AVL was tasked with providing a recital hall with excellent acoustical qualities within an existing building that posed significant challenges. The space chosen was height limited, and too long for its width and height. The intent was to provide a similar listener experience for all seats, and a sense of warmth and envelopment of sound that is usually found in much larger spaces. The decision was made early in the project to incorporate physical acoustics as well as electronic acoustical enhancement. The physical acoustics were designed as highly diffuse to prevent energy buildup within the narrow confines of the space. A custom designed 3D moveable diffusive absorptive wall at the back of the stage covers the entrance to the green room. The electronic systems are used to add extension to the reverberation time and frequency range that would no be possible physically. The electronic system specified was Yamahas AFC 3. The electronic system also offered an added capability – extensive surround sound capabilities for electronic music. With a matrix of 52 speakers as well as subwoofers, located on the sides and overhead, the system allows panning and movement of sound within the matrix. Dante network control allows access for electronic musical programming across all speakers. The spaces is also used for distance learning masters classes and is equipped with a video conferencing matrix capable of connection many remote sites simultaneously with high speed low latency access. A connected recording Studio allows events in the Ciminelli Hall and the larger performing arts center within Rockwell Hall to be recorded.

College Of Saint Rose Picotte Recital Hall

The Massry Center for the Arts is a showcase for music and visual arts at The College of Saint Rose in Albany, NY. The Kathleen McManus Picotte Recital Hall has a volume of 126,000 cf. Design for acoustics, audio, lighting, and visual systems for the Picotte Recital Hall was provided by AVL Designs, Inc. For this project, the music department expressed the desire for a space that could accommodate small and large ensembles with excellent sound in all seats. The space design for the building included a sloping floor, making this task more difficult. The varying air space over the seating area led us to work with a design for an almost entirely diffusive environment. The results exceeded our expectations, with consistent warm response through the seating area, and excellent envelopment throughout. To make concurrent use of orchestra and choral rehearsal rooms – located directly above the recital hall - possible, AVL designed an STC 95 and IIC 82 separation between the spaces. Field tests indicate this separation meets the specified level of performance. A high performance digital audio system integrated with Pro Tools recording was integrated into the room to record everything from solo recitals to concerts. Testimonial "The acoustics of the recital hall ... are incredible! When people have complimented me on how well my Saint Rose Jazz Ensemble has sounded on past performances, I have always thought to myself 'you should hear how great they sound from where I stand on-stage, directly in front of the band.' In our former auditorium, there was a marked loss of clarity the further you were from the stage. In the Picotte Recital Hall, it sounds the same whether you are on the stage, in the front row, or in the back row. The sound is basically the same everywhere in the hall. It is as good an acoustic environment as we could ever have hoped for. Everyone who attends a performance in there is completely blown away with the acoustics. In addition to the acoustics, the hall is drop-dead gorgeous! The sight of wood flooring on the stage and the wood wall and ceiling panels is absolutely stunning. To say that everyone who sees it is very impressed would be quite an understatement." Paul Evoskevich, Professor of Music, Music Department Chair, The College of Saint Rose

Phoenix Central Schools

In the design phase of multiple rehearsal spaces for the Phoenix Central School District, the architect wanted a dramatic look along with good acoustical conditions. The budget they had to work with was somewhat tight. We used a combination of off-the-shelf wall products and a custom GRG acoustical canopy for each space. The acoustical canopy allows energy to be distributed back to the musicians while some of it is generated up to an acoustic roof deck above. Walls products include diaphragmatic units that help control low frequencies. A combination of RPG formed fussors as well as kinetics barrel diffusers and absorbers of various thicknesses were used to tune the rooms.

SUNY Albany Recital Theater

AVL was contracted to provide new lighting and audio visual systems for an architecturally challenging space, and octagon shaped recital hall. Two key features of the space included a large crystal chandelier and brass filigree ceiling systems, both architectural details that the owner wanted to highlight. The filigree ceiling also required repairs and replacement to various sections. The intent was to change all lighting sources to fully dimmable LED and incorporate color-changing elements to provide drama to the space for special events… A new HD video system was provided using the latest generation of controls and projection technology, while still allowing for older projection technology to be used. LED Chandelier Chandelier LED detail Filigree Top lighting Color Wash Video Screen - Multi format

SUNY Fredonia Mason Hall

Large Rehearsal Rooms: Existing large rehearsal spaces at SUNY Fredonia were acoustically inadequate. Overly reverberant, noisy, poorly isolated from each other and simply too loud. The decision was made early on to provide a highly diffuse overhead canopy, as well as highly and varied diffuse sidewall treatments. In order to provide diffusion down to very low frequencies custom deep column shapes formed out of diffusive block were employed. An ample amount of absorption was also included in the spaces, to simulate the effect of a proscenium and audience area behind the conductor. This allowed energy to dissipate behind the conductor minimize hearing impact, and providing a good "live" auditorium feel. Extensive computer modeling was done to look at SPL levels at the ears of players and faculty, as well as reverberant and flutter echo. Faculty and students are pleased with the spaces, and there have been no complaints about sound levels.

Thousand Islands Schools

Thousand Island Schools contracted with AVL Designs Inc. to provide acoustical design for multiple rehearsal spaces. The challenge with these spaces included a wide range of ceiling heights, shapes, and uses. AVL also provided consulting on room to room isolation, Mechanical noise and other aspects of these spaces. All spaces were designed with computer modeling to estimate projected results. The occupied spaces were very well received and continue to provide excellent performance.

Williamsville Central School District

Heim Middle School rehearsal space / music room plus Transit Middle School. Music classrooms are being renovated and many new, large rehearsal spaces are being built. AVL tested existing schools and, based on meetings with their music teachers, developed preferred conditions. We will update you with more information and images as the projects progress!