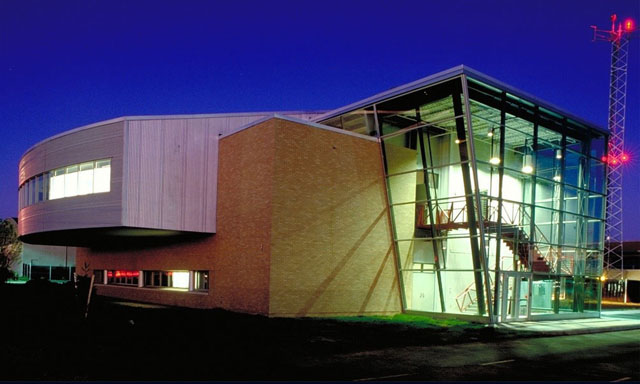 Monroe County 911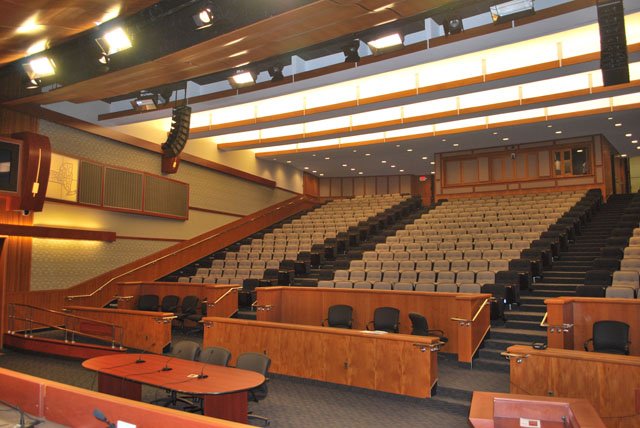 New York State Legislature Hearing Rooms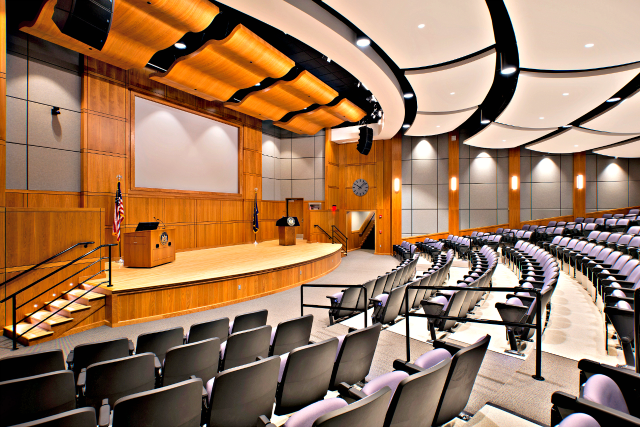 New York State Police Academy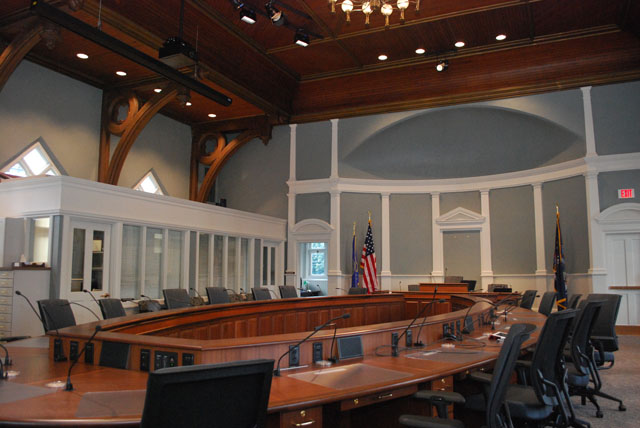 Tompkins County Legislature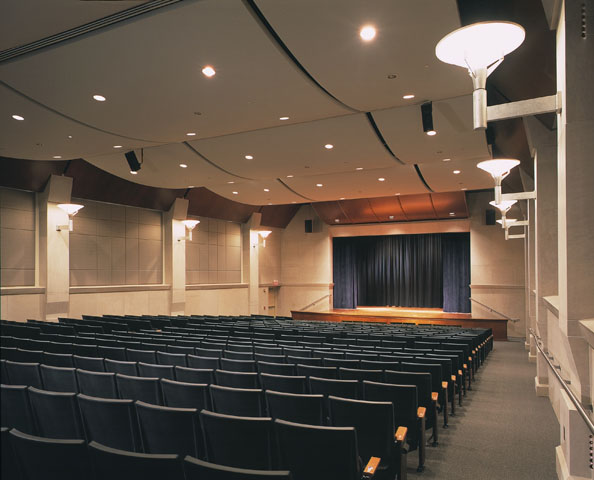 Yonkers Public Library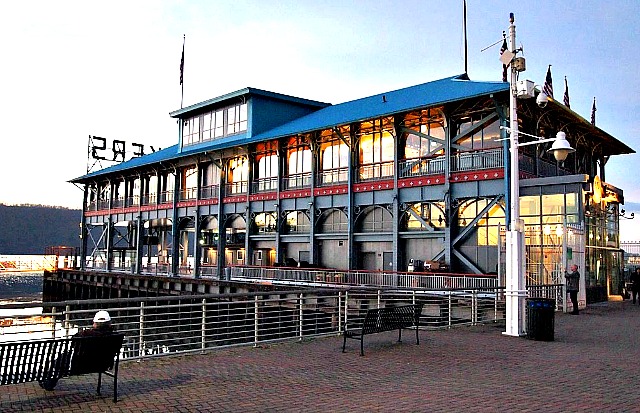 X20 Xaviars on the Hudson
Monroe County 911

The site of the training facility is in a commercial and residential adjacency to the Greater Rochester International Airport. The training facility serves many functions including a 911 call center, gun range, fire department training facilities, and general emergency training. The renovation and addition to the building was intended to correct many deficiencies, including acoustics at the current gun range. Gunfire was audible not only within the building but also quite a distance outdoors. (The range is used for small arms up to automatic weapons and shotguns. The resulting sound pressure is significant.) AVL was contracted to perform field testing to determine how the noise was escaping and to design solutions for the renovations in addition to keeping the gun noise under control. AVL was also contracted to design interior acoustical conditions for conference rooms and common spaces in the project After identifying a number of areas where the existing building and mechanical systems were leaking noise, AVL provided mitigations to correct those issues and design for new spaces.

New York State Legislature Hearing Rooms

The legislative hearing rooms at the New York State complex suffered from poor acoustics, noise, lighting, and audio. Intended new video cameras and broadcast needs required updates be undertaken. AVL was contracted to perform site surveys and provide design for acoustics, audio, lighting and rigging in the hearing rooms. Hearing rooms of this type operate much like a courtroom with no specific source location, but many. The acoustic goals were to provide good natural reinforcement of speech from many areas in the front of the room. The sound system was designed to work with the natural acoustics to add needed energy to the seating area, in sync with the natural sound As an upgrade to the video system HD cameras were being implemented which required even, soft high intensity lighting. To minimize energy costs and heat a combination system of high efficiency dimmable studio fluorescent and high efficiency Source Four fixtures were used. Color changing Led was used to highlight art sculptures within the rooms. Lighting controls were designed on a software-based platform so multiple room uses and orientations could be easily accommodated at the press of a button.

New York State Police Academy

AVL Designs Inc. recently completed a project at the New York State Police Academy training center. Working along with Hyman Hayes Associates Architects and Lewis Engineering P.C. in Albany, the mission was to upgrade the main auditorium and associated training classrooms. AVL was responsible for acoustical design, sound system design, robotic cameras, high definition displays, video conferencing, and control systems. Specific need for interactivity between the multiple classrooms was coordinated with in-house video specialists at the academy so that configurations and take-control can be accomplished from various touch screens around the facility. The final result provides a technically advanced facility within a warm and inviting architectural environment that well serves the New York State Police Department.

Tompkins County Legislature

The Tompkins County Legislature decided to move to a new site in a historical building located in downtown Ithaca. Their previous location was an office-style venue with low suspended ceilings and drywall construction. The new venue is an old church building that had been used as a courtroom. High ceilings, decorative woodwork and plasters are abundant in this space. AVL was tasked with acoustical control, lighting, audio, video production controls and video display for the new space. In the previous location, cameras were manned by operators. In the new venue they wanted everything to be robotic with one person able to operate cameras, audio, video, and content display. A five camera robotic system was devised with touch screen thumbnails for access to refocused shots. Manual override is also available for any camera. LED video lighting was installed to compensate for varied lighting conditions in a room with many windows and session held in both day and nighttime. Color correction and levels are changed by preset to provide good color rendering at any time of day. The room was treated acoustically as far as possible within historical limitations. The room is still relatively live. Tuning was tricky but, after a round or two of commissioning the audio mix, on-air sounds like a skilled sound operator is mixing the session. All 22 microphones are fed into a gain sharing auto mixer, with one set of QSC DSP for the live in room audio, and a separate DSP auto mix for on air audio.

Yonkers Public Library

The Yonkers Public Library was conceived as an innovative and elegant structure. Multiple use of its spaces called for exceptional acoustics as well. AVL was brought onto the team to design acoustical solutions for the main areas of the library. 1. The main auditorium hinges on an outside wall of the building, located right next to a busy intersection. The space is also an asymmetrical room in terms of seating. Events that take place here include symphonic music, lectures, and other special proceedings. The design needed to be multi-purpose, specifically angled, and able to overcome the outside noise. 2. The large public gathering space is directly adjacent to the auditorium. This area needed to appear as all hard surfaces for the architectural and aesthetic design, while at the same time acoustically reduce the reverb time that such materials increase. 3. The atrium that runs along the main entrance to the library was also a concern. This area has a lofty ceiling and an extensive use of marble and limestone materials, which caused a high reverberation time. Other designs implemented in the library included acoustical isolation for the conference and board rooms, as well as general acoustic design within the library, all of which utilized a variety of special techniques. Post-project, the first large-scale event was their grand opening. This event included, among other special happenings, a dinner in the public gathering space outside the auditorium. With many people, tables and so forth in the space, their guests could comfortable converse with one another and easily be heard. We've had continual compliments on a job well done. Mission accomplished!

X20 Xaviars on the Hudson

The renovation of a waterfront building in Yonkers NY into a high-end restaurant presented some challenges to our design team – but we like a challenge! The new owner, master chef Peter X. Kelly*, wanted to maintain the open feel of a warehouse, which has extensive glass. He also wanted an intimate acoustic environment where people could dine without excessive noise while maintaining a high-end aesthetic look. AVL Designs Inc. was brought in on the project and developed acoustical control using methods that are architecturally invisible. The resulting environment is warm and inviting, a perfect complement to fine dining provided by the master chef at the now famous X20 Xaviars on the Hudson!