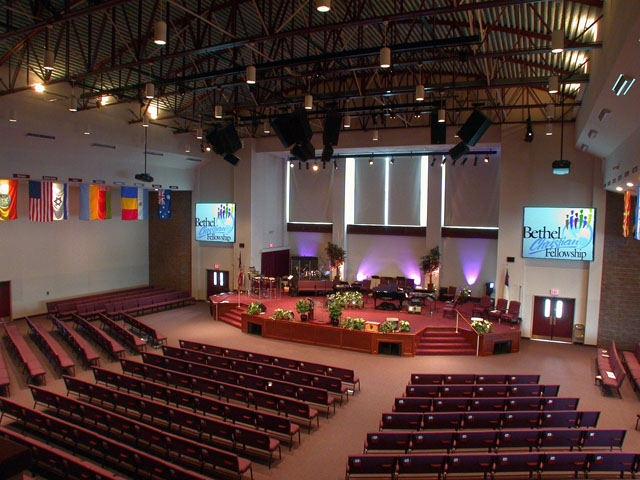 Bethel Christian Fellowship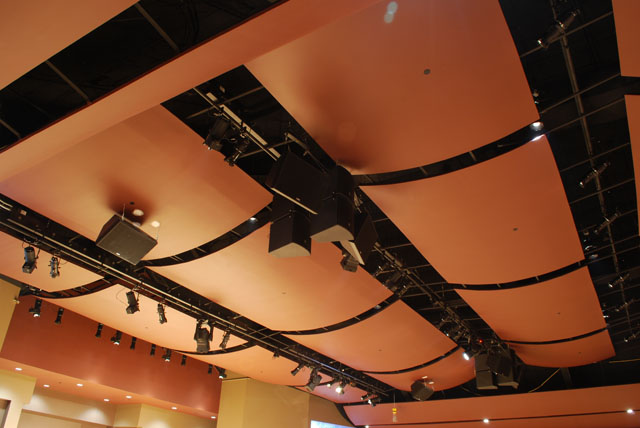 Christian Faith Fellowship Church NJ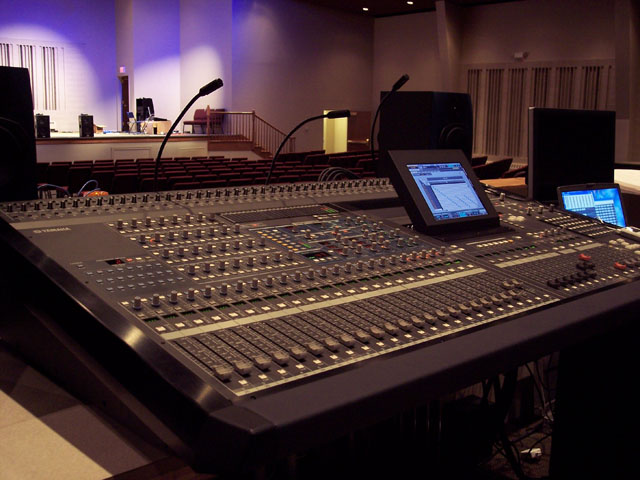 Christian Faith Fellowship Church NY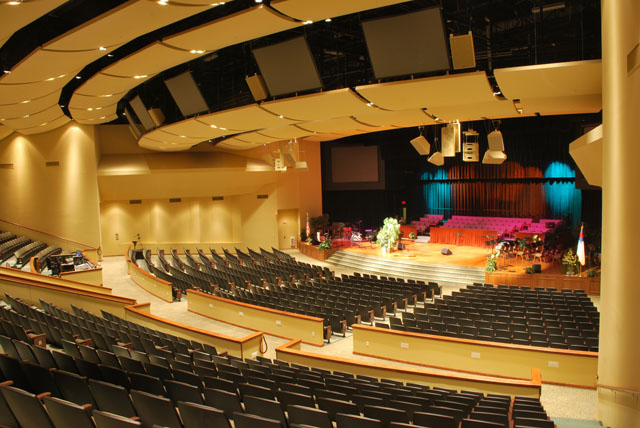 First Bible Baptist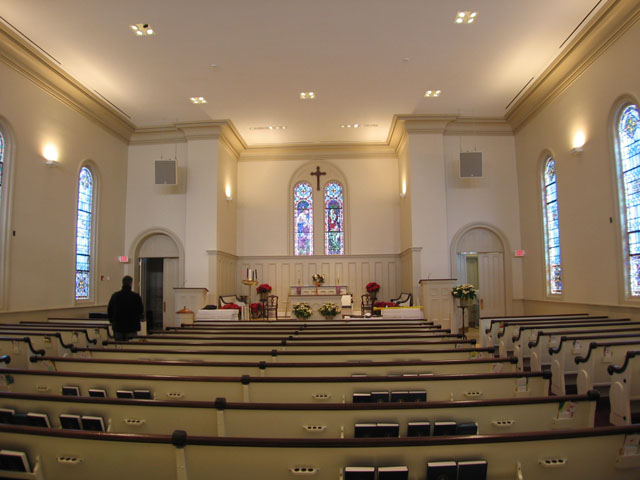 First Presbyterian Church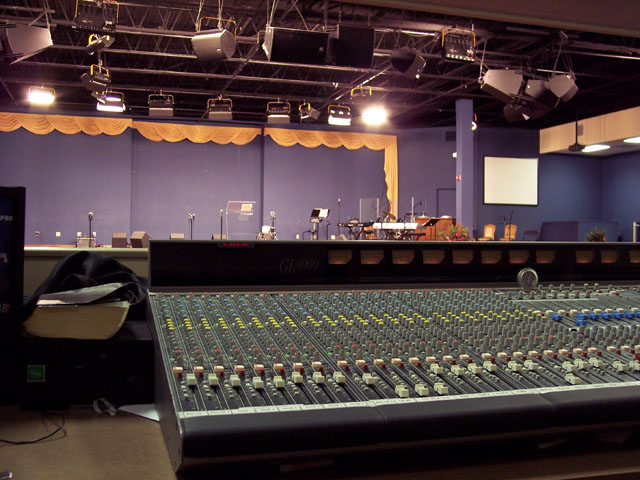 Hope Christian Church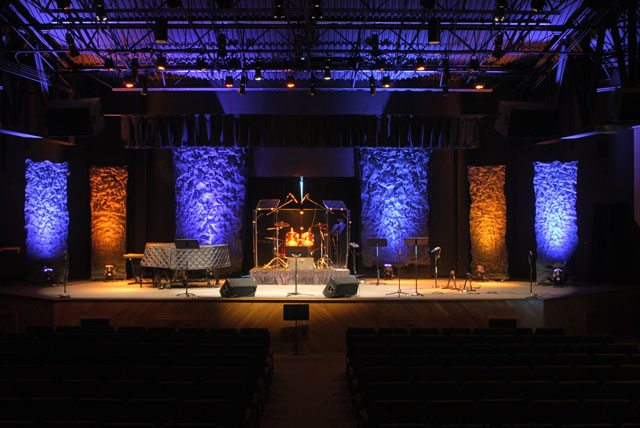 Lakeshore Community Church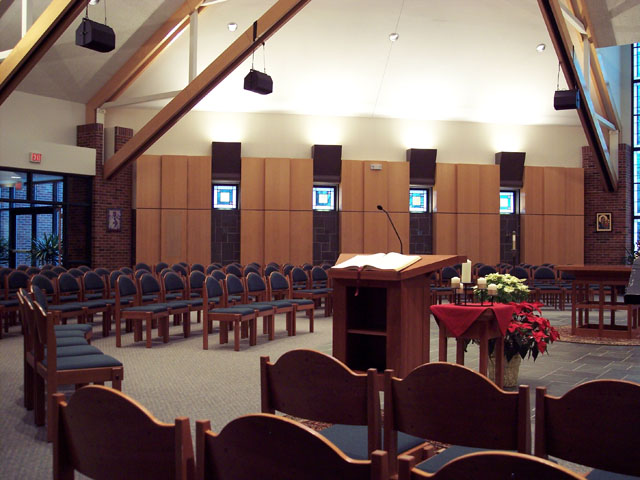 Lemoyne College Chapel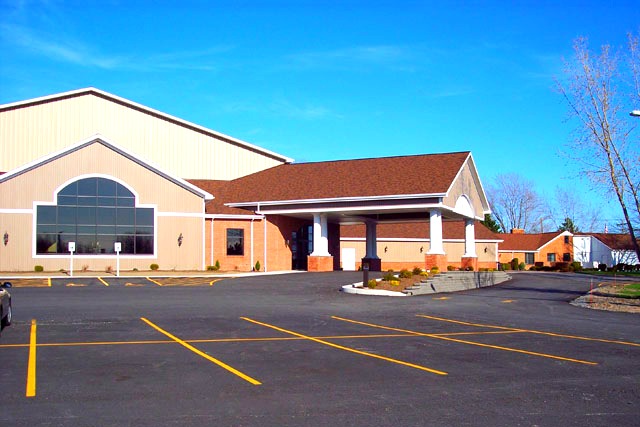 New Life Assembly Henrietta NY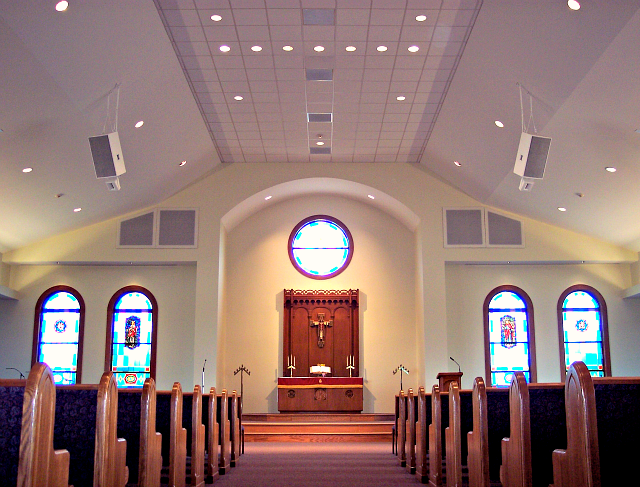 St. Pauls Lutheran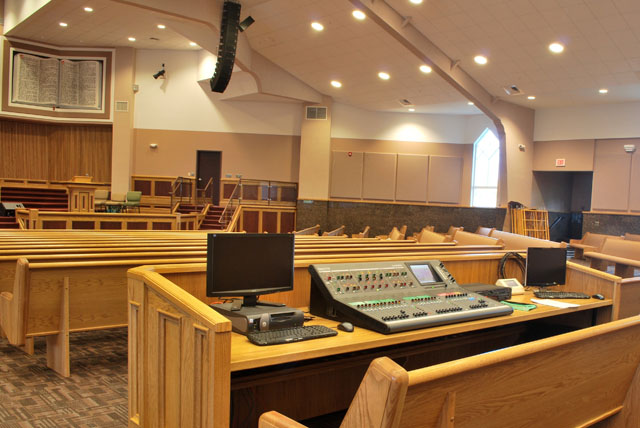 The Slavic Pentecostal Church
Bethel Christian Fellowship

Bethel Christian Fellowship of Rochester NY had just completed its new 1800 seat sanctuary and AVL was brought in to add the finishing touches. Their desire was to have a booth in an open, central location on the floor; true stereo imaging throughout the space for audio; lighting that would work for services and for theatrical productions; high-end video projection; basic video production to be expanded upon later; balanced acoustics for live music, choral and orchestral performances, as well as the ability to amplify up to rock-and-roll levels for touring artists. Because of the site location and layout, the building was designed as a "T" shape, with a balcony and two side wings. One area of the space has a high vaulted steel roof, while the rest had slanted grid ceilings. The building design (T shape) presented 2 problems. 1. sight lines to the stage were impeded, especially in the wings, and 2. acoustic attributes of the room were very poor. First, AVL designed the open air booth. The booth encompasses the controls for audio,lighting, digital video projection and graphic systems, as well as some aspects of video recording.Once the booth was in place, AVL redesigned the platform, projecting it into the room to improve sight lines. Next, we balanced the acoustics in the room, mainly usingmaterial changes. K-13 acoustical spray was used on the ceilings, and the platform materials, seating materials, and wall finishes were selected to provide a median reverb time stereo throughout the space. Bottomline, we were able to fulfill all of their requests including obtaining true stereo sound in an acoustically challenging space, thus providing the Bethel congregation with a positive worship experience.

First Bible Baptist

The church set out to design what can truly be called a mega church building. As such, the requirements were expansive for audio, video, stage and acoustics. The church utilizes both a concert orchestra and/or a contemporary worship band at various times. They also use their sanctuary for large-scale dramatic presentations as well as many other types of events. AVL Designs, Inc. was contracted for acoustics design, lighting, controls, Audio-video presentation, catwalks, stage rigging and curtain design. One of the first conflicts to be resolved was the location of a permanent large screen presentation display over the stage, since there was still a need to provide stage rigging and optimal lighting positions for theatrical lighting. AVL developed systems of mezzanines and catwalks that provide optimal rear projection video, lighting stage rigging, and allow better access to overhead lighting catwalks. To get video to the rear seats, a second set of rear projection screens were installed in the acoustical cloud systems. The room acoustics were designed to provide good envelopment of sound to the seating areas with a relatively high reverberation time for classical music and choral music. In this environment, the challenge was to get high definition audio to the seating area. Utilizing a numbers of techniques—including low frequency beam steering, Gunness focusing, and a careful design to place the overlap of loudspeakers in the aisles—a system was developed that meets the needs of speech and contemporary music. Extensive patch fields and digital signal routing allow rapid changeover of events in the space. AVL worked with the mechanical designer to provide a very quiet air handling system that allows the detail of the live acoustics and sound system to be clearly perceived by the audience.

First Presbyterian Church

The historic First Presbyterian Church in Pittsford NY – built in 1809 - was struck by lightning in 2004. The building was heavily damaged by the ensuing fire and had to be rebuilt from the ground up. AVL was contracted to perform acoustic analysis of the former conditions and help design new construction that would simulate the acoustics of the old. This required estimating many factors as the fire had burned away the building to the point that testing was impossible. During the renovation, the church decided to make significant upgrades to the space including modern audio, camera, and AV systems. AVL was contracted to handle these additional scope items. A centralized control system was designed to allow the users to access all operations via a touch screen interface. A new audio system, cameras for capture and distribution, and stereo recoding microphone were added to the space. The music department auditioned the new space and found it to be acoustically better than the prior and dramatically improved technically.

Hope Christian Church

Hope Christian Church presented some significant design challenges in their new sanctuary. Their new worship space was essentially a large low-height office building. The church wanted high end high power worship, live video production, and studio grade lighting. The starting point was to develop a structural mounting grid that could support all audio, lighting and related systems. Once the grid was developed, lighting was designed as a first priority. Video quality was a key element. With the lights already taking up space, an audio system had to be developed that would provide concert quality live audio and not block sight lines. Large loudspeakers often used for these applications just would not work. To get the directivity and sound quality needed, AVL developed a set of phase steered arrays that, while low profile, provide the type of impact associated with concert sound in a tiny package. In-ear monitoring, separate house and monitor consoles, and an array of microphone and processing completed that package. Some critical listeners remarked that the completed system sounded like giant studio monitors.

Lakeshore Community Church

Lakeshore Community is a non denominational church that wanted to upgrade the quality of their In sanctuary systems to accommodate a higher level of technical presentation. AVL was contracted over a period of years to provide design for various upgrades. The first was correction of the room acoustics. Due to its shape, the sanctuary had significant sound energy reflecting back into the seating area negatively affecting listeners. A budget-conscious design using wall mounted absorbers and diffusors in a binary layout were used to control the percentages of energy required to control these reflections. Panels of varying types were used to tune the room reverberation to a flatter overall response, removing midrange peaks. The next project was a replacement sound system. Main speakers, DSP, console, and stage monitoring were all replaced in a renovation that moved the worship department into new territory. In ear monitoring added to overall audio control, and the resulting audio quality into the seating area was dramatically improved. The next project was a lighting upgrade. The original system was all incandescent with poor lighting locations and no color or other interest. AVL designed a new rigid lighting grid incorporating color changing LED technology as well a new quartz lighting. The system provides dramatic backdrops for worship and preaching. The final upgrade was new video projection and controls. A three projector system with independent switching and mixing of video images for each screen was implemented.

Lemoyne College Chapel

AVL was contracted directly by the College to design a new sound system for the campus chapel. There were a number of challenging goals for the project. • Due to multiple user groups, the system needed to be able to reconfigure for various seating orientations and presentation locations. These changes had to be "background" so that users would not need special skills to operate the systems. • The acoustics in the space were quite live and there was no budget to support changes to the room itself. • Other than loudspeakers no visible changes to the room were permissible. AVL provided testing of the existing system and room acoustic factors, and held extensive meetings with users groups. All of this data was used to develop a system that would meet the criteria for high intelligibility, simple interface, and reconfigurable room uses. This successful project led to an ongoing relationship with Lemoyne College.

New Life Assembly Henrietta NY

When Pastor Kirk Spite of New Life Assembly and his team came to AVL it was because they were planning a new building. From the start, sound quality and worship were at the forefront of their thinking. AVL Designs Inc. was contracted for room design, acoustics, noise control, sound, lighting and audio-visual design. Within a relatively tight budget, the sanctuary and systems were developed using some novel approaches like down steered flown subwoofers, Gunness Focusing technology, and careful integration of wall acoustic responses to the seating area. To support the live choir this integration was crucial , as was the use of diffusive masonry to provide a strong acoustic projection with minimized specular reflections. We recently ran into Pastor Kirk at a local store and he said they still love the system many years later, and wouldn't change a thing, other than a new digital console they are looking at……..

St. Pauls Lutheran

AVL was contracted by St. Paul's Lutheran Church in Hilton New York to provide a variety of services for their new building. They were striving to create a space that would be equally as comfortable for traditional worship as well as contemporary, being very aware of the many areas where these two styles could conflict. AVL was engaged to resolve issues with acoustics, audio, video, and related controls. Working closely with the church, we developed a multi-tiered control system. This allowed for users with minimal skills to use the space, while maintaining the sophistication required for larger event usage. Acoustics were well controlled by design using standard building materials with specific shaping to control the room. A select balance was achieved between the conditions for traditional and contemporary worship needs. Digital audio controls were included to provide precise recall of setting. Video screen recessed into soffit also served to control room light, with a light blocking materials on the rear. Facilities for multiple stage monitors mixes were included for contemporary worship.

The Slavic Pentecostal Church

This church contacted AVL in the midst of the design phase of their new sanctuary. They were seeking assistance with acoustics, audio and lighting. The congregation of 1000+, who immigrated to the US during the Clinton administration, were a strong and dedicated community. Their plan was to use volunteer labor from the congregation to build much of the new building, including the audio and AV systems. This proposal can be daunting to consultants because the average church member does not usually have the technical skills required for much of this work. However, AVL found that these volunteers were highly skilled. Many of the laborers were engineers, software engineers and trades professionals. The workmanship on this sanctuary was among the best we have ever seen with great attention given to detail that speaks of old-world artisans. The audio and AV designs, however, were nothing "old world." They are state of the art, utilizing digital audio consoles, ribbon line array loudspeakers and state of the art video projection and controls. On our recommendation, the church did retain an audio contractor to provide equipment, speaker rigging, system terminations, rack build, set up, and tuning. During commissioning of the system it became apparent that this congregation would make full use of everything they installed and would even stretch the limits. One of their software engineers actually rewrote some console code to fix a glitch they found. "Old school" in a new world!