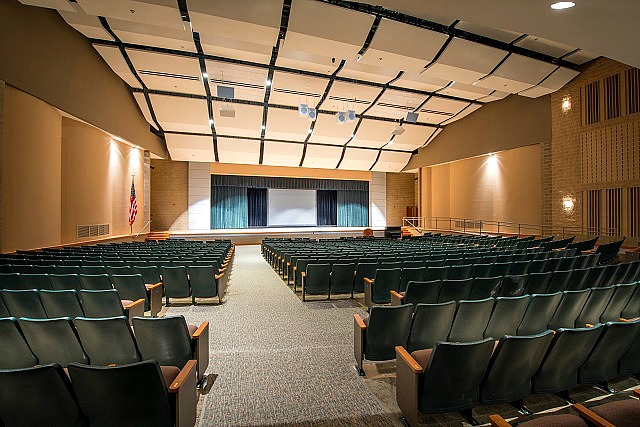 African Road School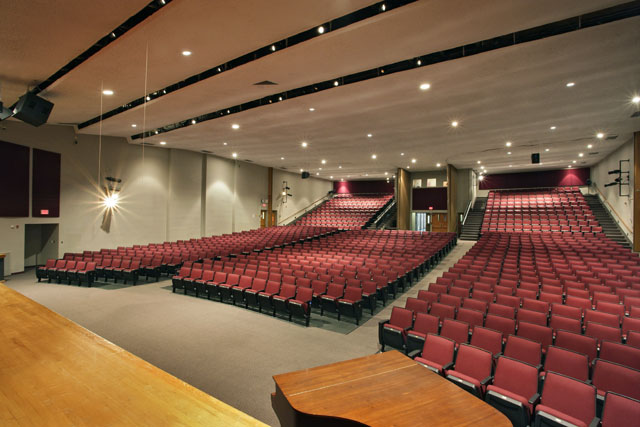 Akron Schools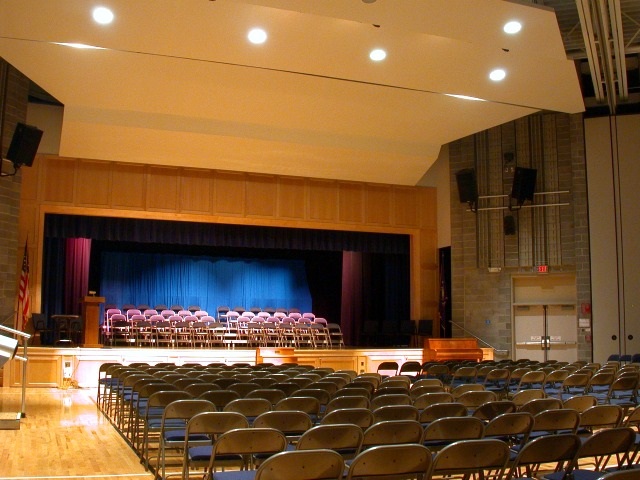 Arkport High School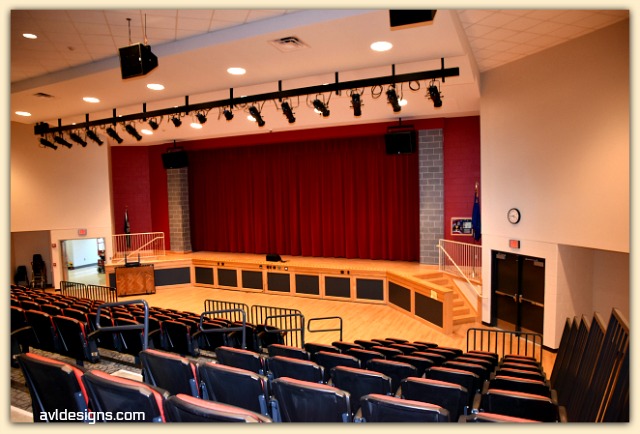 Belfast High School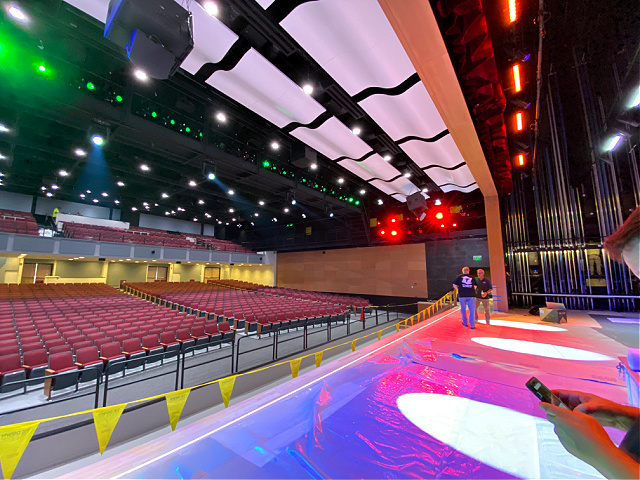 Burnt Hills Ballston Lake [BHBL] High School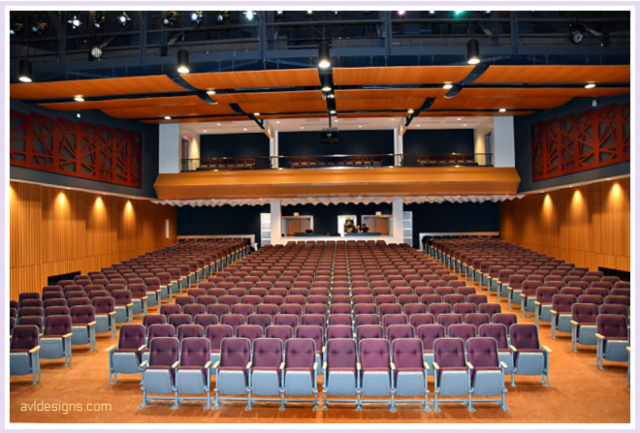 Central Square High School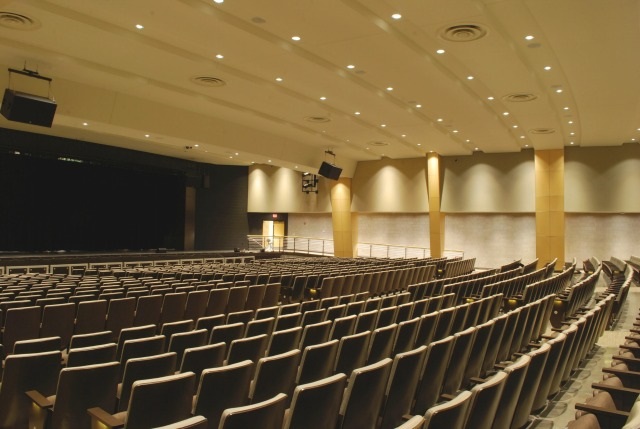 Corning East High School Auditorium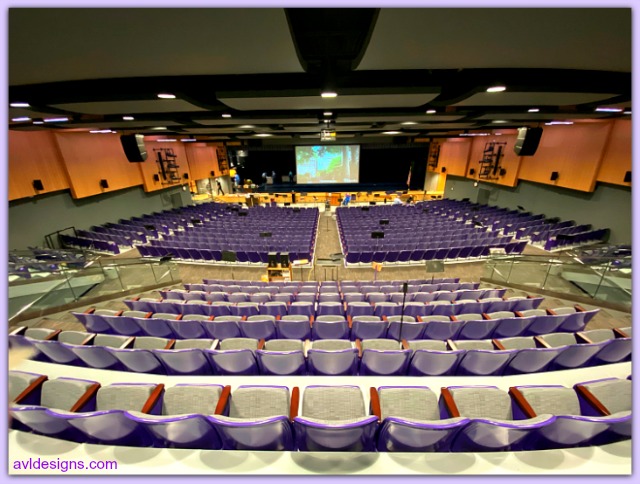 Cortland High School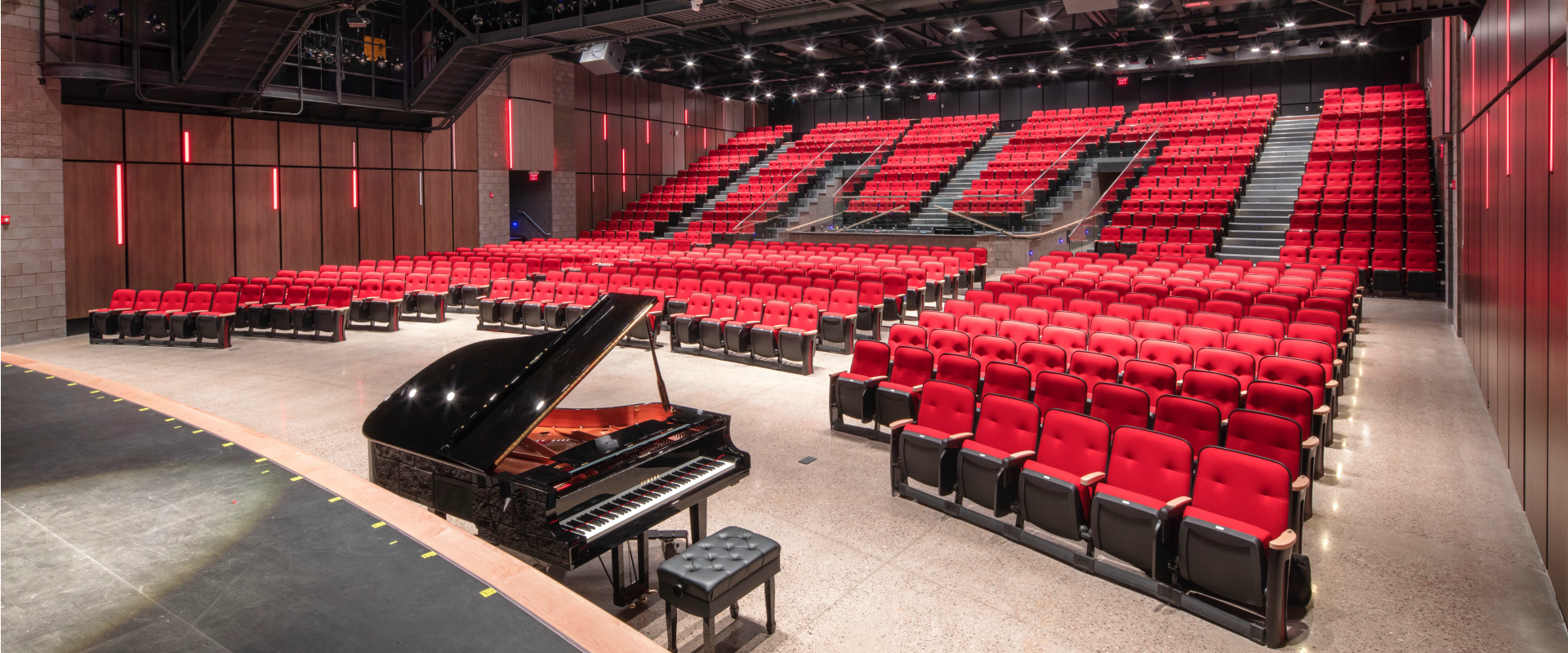 CW Baker High School Baldwinsville NY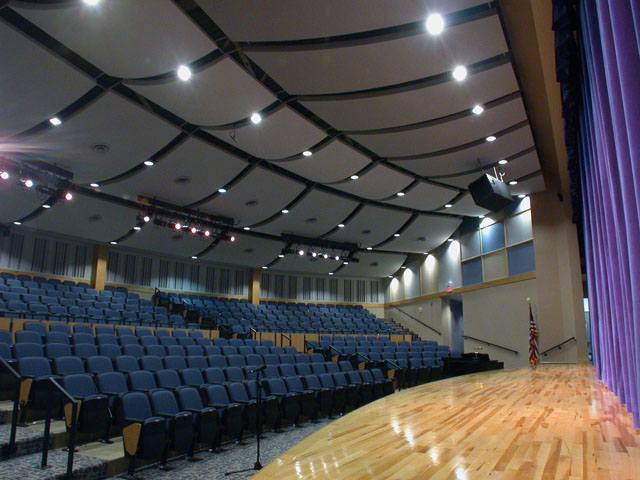 Elmwood Franklin School
Fingerlakes Community College PAC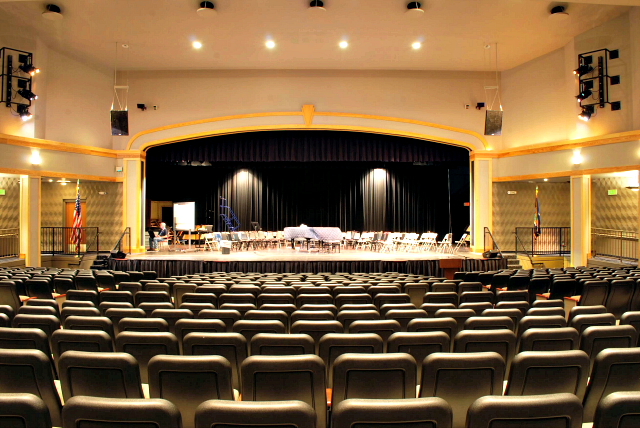 Gananda High School Auditorium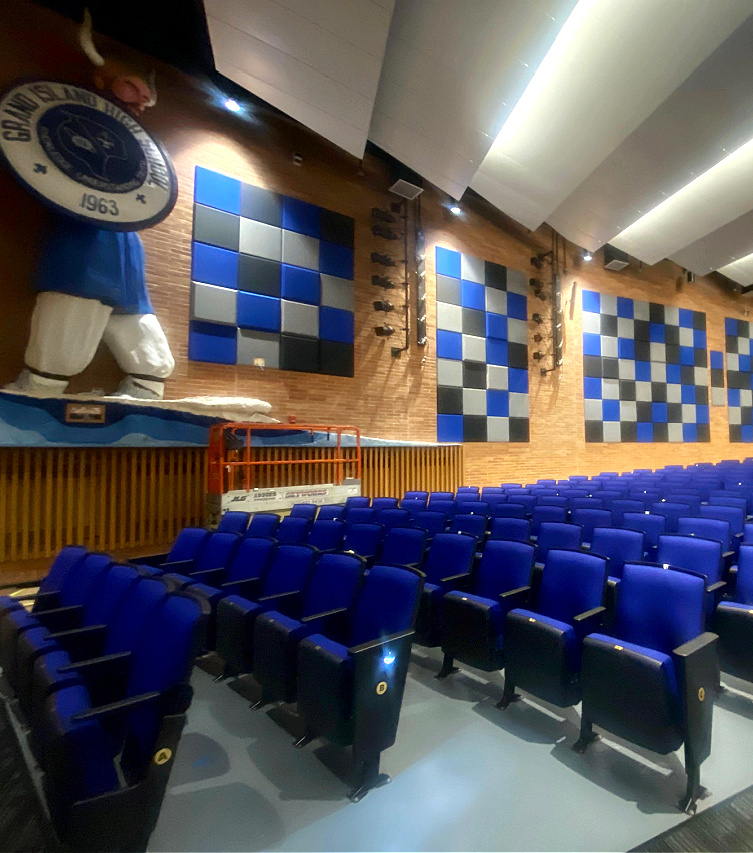 Grand Island High School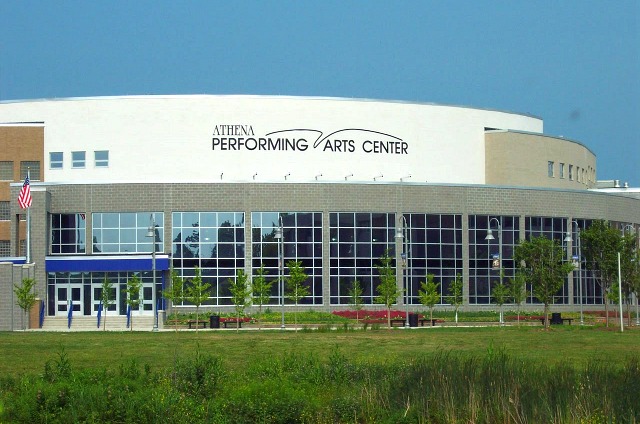 Greece Athena Performing Arts Center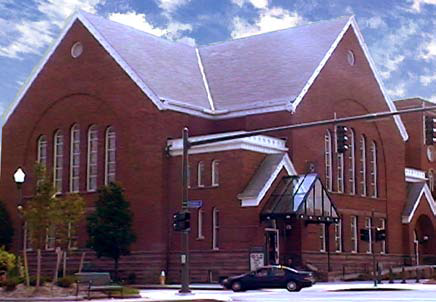 Hochstein School of Music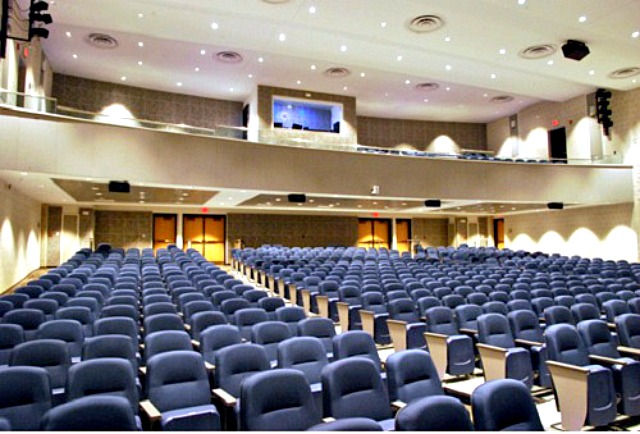 Homer High School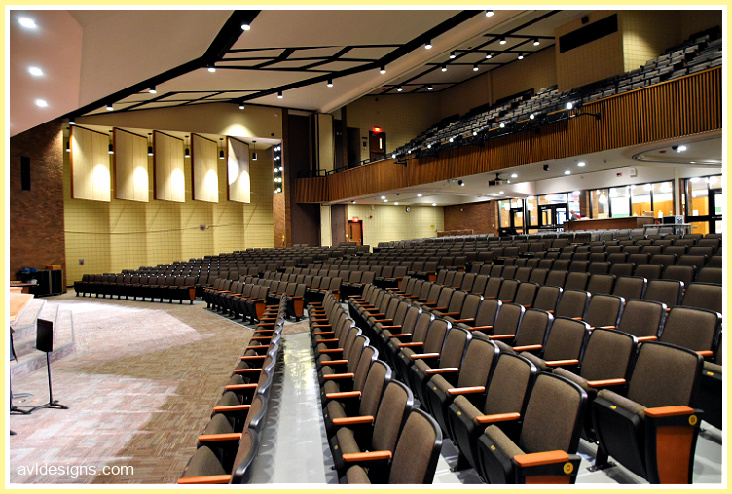 Lakeshore Middle School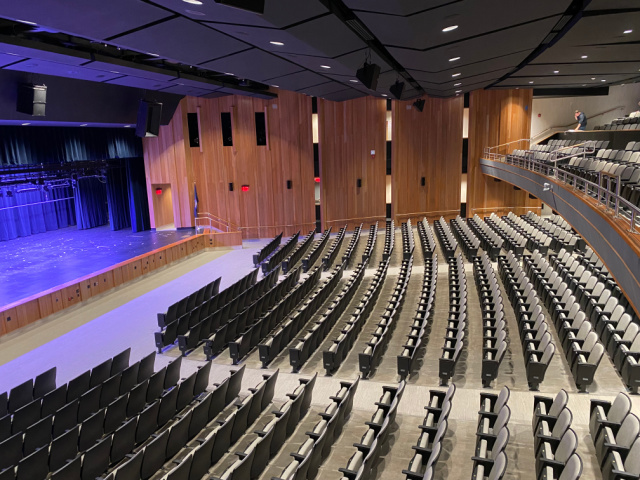 Liverpool High School Auditorium Extreme Update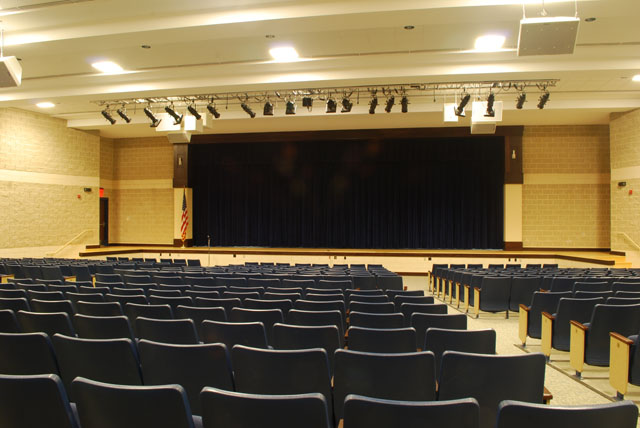 Maine Endwell High School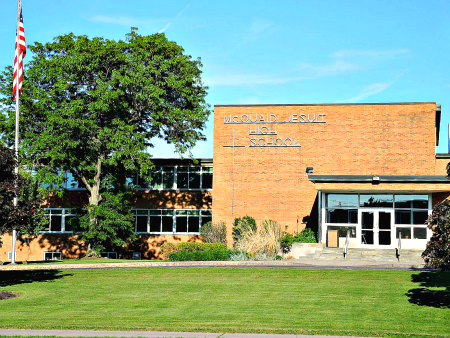 McQuaid Jesuit School Performing Arts Center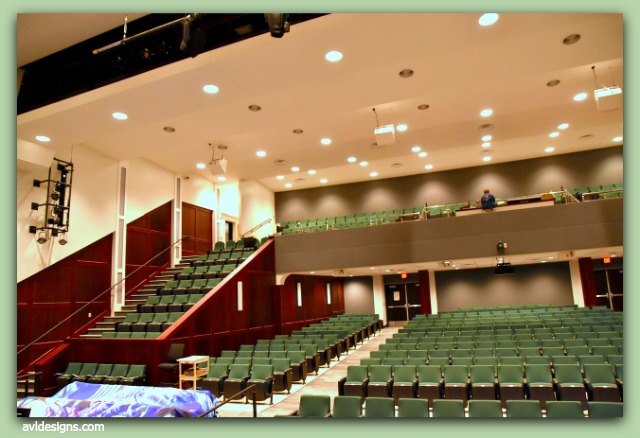 Newfield High School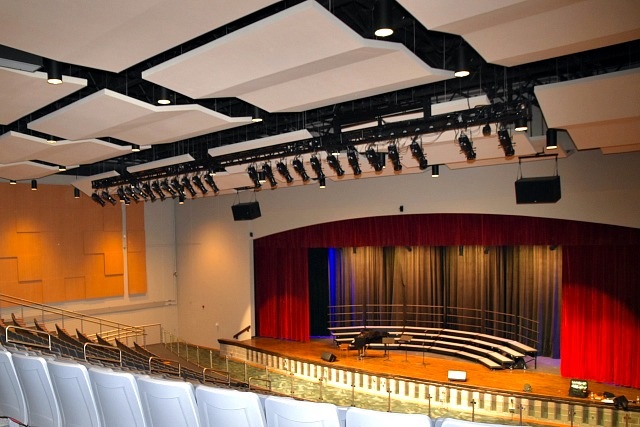 North Tonawanda High School
Oxford High School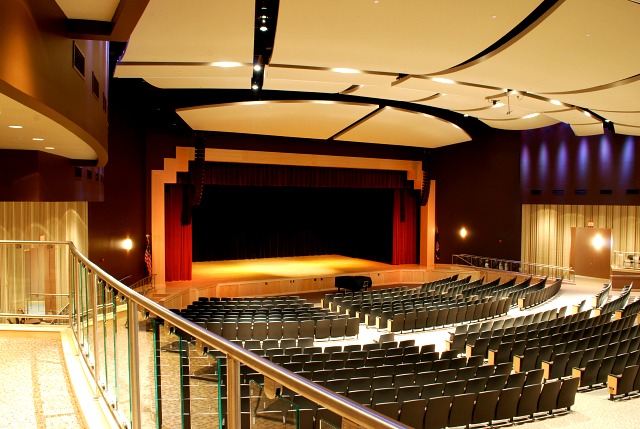 Penfield High School PAC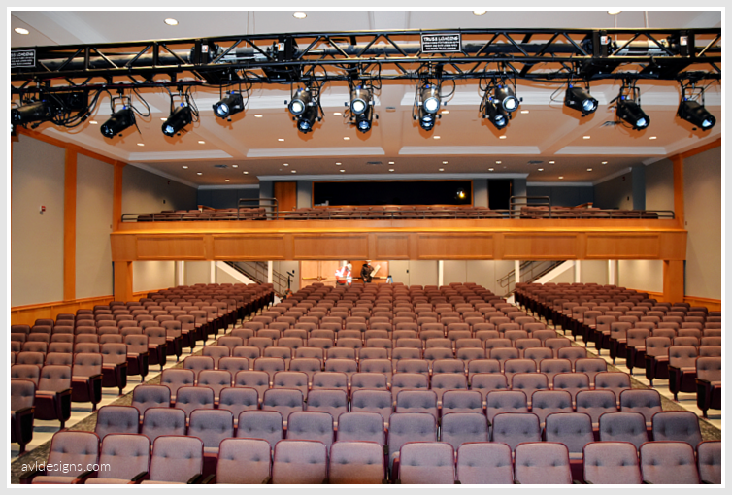 Portville Central Schools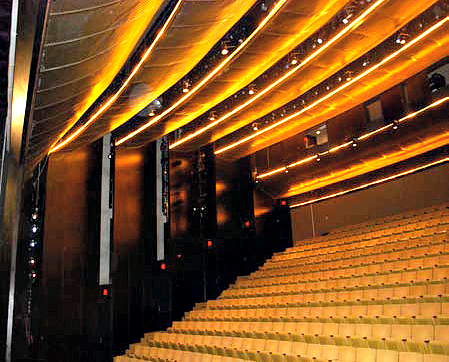 SUNY Albany Performing Arts Center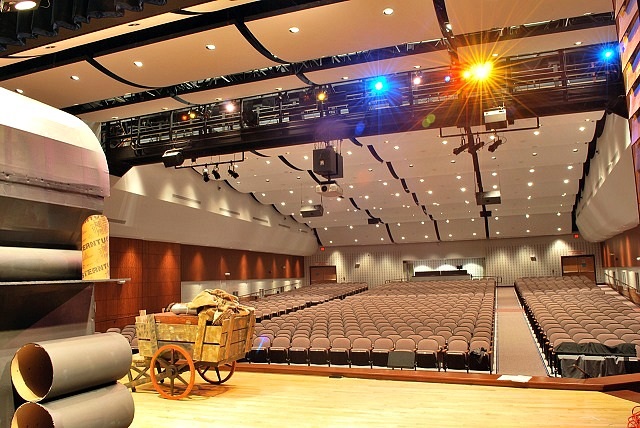 Victor High School Auditorium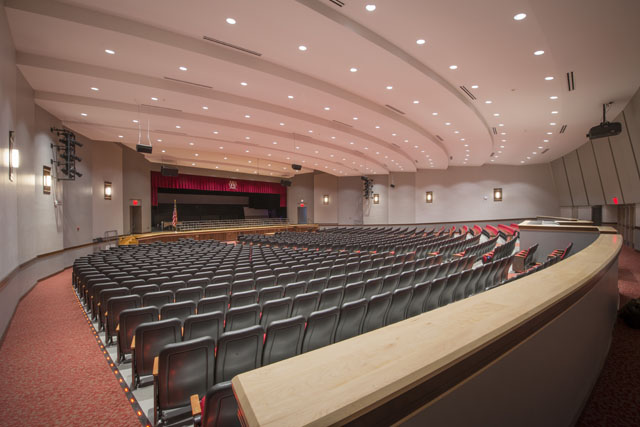 Waverly High School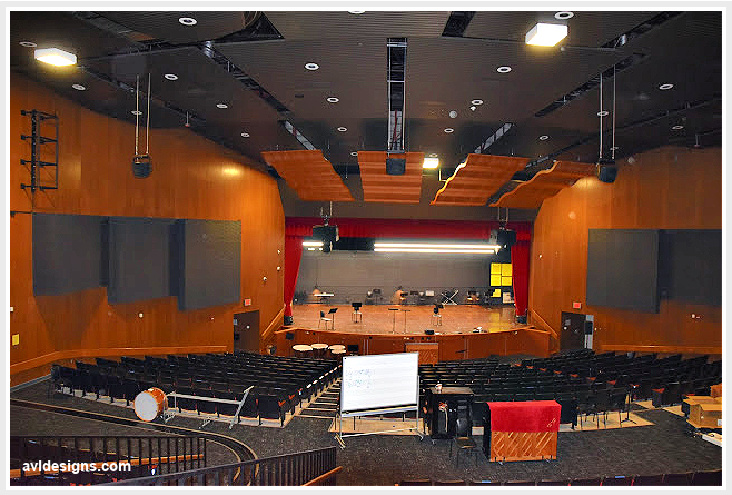 Williamsville Central School District
African Road School

AVL Designs Inc. has been associated with the Vestal School District on past projects which include high school auditoriums and football fields. Working with BCK/IBI we were tasked with designing a new performance space for their new African Road School. This auditorium would be a primary performance space for the district for a variety of events. Acoustic design includes diffusive and reflective elements of many types, including the ceiling which was shaped specifically to provide energy distribution to the balcony in the rear seats. RPG diffuser block would be used extensively on the side walls to provide lateral energy. The sound system design consists of front fill, main seating area, and balcony "over and under" delay systems. Automated and manual controls are both available in the space. For day-to-day use operation is quite simple. For productions, it is run by an operator on a show console. AVL also provided design for all state rigging, theatrical and seating area lighting and audio visual presentation systems.

Akron Schools

Akron CSD had some existing music spaces and auditoriums with serious performance deficiencies. Music rooms had poor isolation. Interior acoustical quality was substandard. So, a new wing was proposed to provide the students and owner with superior music spaces , and a new multipurpose space. AVL was contracted for acoustical design, audio, and other systems for the wing. In the new addition, AVL was contracted to design an entirely new spaces including band, choral, and multipurpose spaces. AVL was also contracted for audio upgrades to their existing high school auditorium. The project was completed to the great satisfaction of the owner and music department.

Arkport High School

Arkport CSD had an interesting problem. They were running a significant performing arts program at the high school with no real auditorium. Funding was designated for a volleyball gymnasium but not for a performing arts space. When AVL Designs Inc. was brought into the project, the room had already been designed as a hexagon with seating on four sides for volleyball. The intent was to add a stage on one side of the space, with full fly and theatrical capabilities. It was decided that seating from one side of the space would be removed. Next, the big challenge was how to get the acoustics to work in this oddly shaped concrete block space. AVL Designs Inc. decided to use extensive application of RPG diffuser block, which is a mathematically correct acoustical diffusive masonry system. The combination of this block with a specialized acoustical roof deck, some sidewall reflective elements and an offstage eyebrow – to protect lighting and provide projection into the room - produced a very nice acoustical condition. All of the RPG block was unfinished, which is crucial. Unfinished concrete masonry units have good absorption properties over a wide range of frequencies. Combined with a quality sound system and theatrical lighting package, as well as stage rigging and curtains, this performance venue has had rave reviews for many shows. With the open structure, they are able to fly people for stage productions such as Peter Pan and work with companies like ZFX.

Belfast High School

Belfast High School had a top-notch theater program for their students but the facility did not meet their needs. You see, they were performing in a gymnasium, not an auditorium. AVL Designs Inc. was hired to design a conversion that would take that gym and turn it into an auditorium with comfortable seating, great audio and theater lighting and video capabilities as well! For a full description of the project: https://avldesigns.com/belfast-high-school/ Wait till you see the BEFORE and AFTER pictures!

Burnt Hills Ballston Lake [BHBL] High School

When the Burnt Hills Ballston Lake High School made the decision to renovate their auditorium, the architect requested that AVL Designs Inc. join their team. First, it was determined that the auditorium would have to be entirely gutted. The space would become a "black box" style space with the addition of a balcony plus wrap-around catwalks with lighting positions. Room acoustics: there would be no ceiling and electronic acoustic systems were to be added. In order for electronic acoustics to succeed, there must be very low noise in the space. We were contracted to do ductwork noise modeling. The final system is SO QUIET that it is inaudible. Audio systems include an Allen & Heath Avantis Console, Danley Loudspeakers, Ashly Audio DSP and amplification, and Shure QLX D wireless systems. Video includes projection as well as LCD screens with controls by Crestron and Blackmagic Design, Robotic Cameras by Panasonic. Lighting is based predominantly on product from Electronic Theater Controls, Hi End Systems, and Strand Lighting. The electronic acoustics system is based on Yamaha AFC. Covid product delays have forced AVL to assist in coming up with workarounds as some products will only arrive 6 months or more after the facility starts being used. Such is life these days, but workarounds are getting the job done.

Central Square High School

Central Square High School, located in Central Square, New York City, contracted King & King Architects to head up the renovation of their auditorium. AVL Designs Inc. was hired by King & King to assess the performance systems and design a new system for the school. Audio and acoustics were the top need for the district. The school has a wide-ranging music and theatrical program, and the space is used for many events each year. AVL Designs Inc. dealt with the acoustics first, as many acoustic concerts are held in the room. So, in the design, the side walls are canted in segments to provide lateral energy distribution into the seating area. Overhead clouds are curved, to provide a measure of diffusion to overhead reflections. The under-balcony ceiling has diffusive elements, as well, and the rear wall is absorptive to minimize echoes to the stage. The main sound is built around Danley Sound Labs' audio main speakers, chosen for their fidelity, pattern control, and frequency range. Drive electronics and amplification are provided by Ashly audio products, and the man house console is an Allen and Heat SQ7. An Ashly Audio NE 800MM is used as a day to day automixer, fully automating small functions. Wireless microphones were selected from Shure using the QLX D series. The AV system includes a Crestron control system, 298" Diagonal 16:9 screen, and Christie DHD Series projector. Two touchscreens allow control of the video system as well as audio selection between automated and manual controls. The lighting system is a hybrid using both incandescent dimming and LED fixtures. ETC Source Four, Color Source, Fresnel, and Philips SL bar and Punch Light fixtures were used in the design. The dimming and control are Strand with a Strand Neo Console. Due to COVID-19, the system has not seen much use, as of yet, but the performance use in the future looks bright.

Corning East High School Auditorium

Corning East High School has an active theater program that was being limited by their outdated auditorium, which included insufficient fly space and poor acoustics. Rather than renovate this facility entirely, the decision was made to convert an existing gym into a new theater and convert the auditorium for other uses. AVL was contracted to provide design for the new auditorium including acoustics, audio, lighting, stage rigging, presentation video systems, catwalks, HVAC noise control, electronic acoustical systems and electronic shell systems. • As opposed to a physical orchestra shell that is cumbersome and often conflicts with theatrical use of the stage, and electronic shell provides the same (or better) acoustical environment without the bulky requirements of an orchestra shell Key Elements • Electronic Acoustical Controls including an electronic stage shell • Motorized and Counterweight Rigging System • HD Video systems • Mechanical Noise Control • Lighting, Dimming and Controls • Worklights

Cortland High School

Cortland High School has an extremely active music and theater program. Their auditorium however suffered from multiple inadequate systems and room limitations: • Poor hard to access Catwalks • Unreliable Audio – Buzzes, Hums and intermittent problems • No multi-channel interface for audio to their studio • Insufficient fly space for scenery • Unsafe stage Rigging • Outdated Presentation Video • Poor Acoustics • Outdated and intermittent Lighting • Uneven low level seating lighting • Inaccessible FOH Lighting • Outdated fixtures, controls and dimming Working with the architect AVL developed a plan to add stage height, proper catwalks, lighting positions, new audio and AV , and acoustics including an electronic acoustic system. This system allows changing the reverberation time and early reflection density of the space to accommodate various styles of music and enhance theater productions as well spoken word. The system includes an "electronic stage shell" that enhances the experience on stage for performers and musicians without the bulky physical shells common to high school stages.

CW Baker High School Baldwinsville NY

The C.W. Baker High School in Baldwinsville NY is not your typical high school. They host more than 50 events in their auditorium annually. Events include Broadway theater, dance, concerts, and a variety of the other performance events including multimedia. When the renovation of the BCSD high school auditorium began the goal was to design for performance. Unfortunately, the current footprint and elevation of the existing auditorium had to remain. The old auditorium had very poor lighting positions. Cramped, hard-to-access catwalks were poorly located making it difficult to light the stage and pit areas. To achieve proper lighting positions, a design was undertaken similar to a large black box theater: no ceilings, all black overhead. Two large easily accessible catwalks with side galleries as well as Shakespeare lighting positions were included in the new theatre. The new lighting system, which is based on ETC equipment, combines traditional dimming and fixtures with newer LED technology. An extensive inventory of Source Four® fixtures as well as color source fixtures and Vari-Lite light moving heads was included. Backstage and entry areas include blue light marker systems on dimming controls. This allows for safe movements during low lighting level scene changes. Controls include an ETC Ion with dual fader wings as well as an ETC Paradigm architectural processor. These systems access all of the features of the various lighting elements within the room for day-to-day performance use. All the house lights are individually RDM addressed Color changing fixtures. This allows an immersive environment for shows. The room can provide color and movement to match performance work occurring on stage. Due to the space being long relative to its width, the architect chose to add stadium seating at the back of the room. This not only helps with seating and sightlines but also with acoustics. Speaking of acoustics, a decision was made in the design phase to implement electronic acoustics utilizing Yamaha AFC Technology. Electronic acoustics allows for the changing of the environment to accommodate for various styles of music and performance uses. The reverberation time and early reflections are adjustable within the system both on stage and in the seating areas. The base reverberation time is suited to theater and voice projection. Other presets include low-frequency extension as well as increased decay times. The sound system is designed around point source loudspeakers. Due to the long room, many designers would have turned to line arrays but our experience has shown that negative sidewall reflections in narrow rooms outweigh the throw advantages. AVL chose, instead, to use a unique point source loudspeaker based on Danley Sound Labs synergy horns. These phase coherent loudspeakers provide excellent pattern control and throw. Because of the black box design, speaker placements could be optimized. This was true for main as well as delay elements. Control for the Sound system utilizes both to day today and performance-based mixers. For day-to-day use an Ashly Ne 8800 with gain sharing auto mixer operates the system. The performance console is Sound Craft digital. An iPad interface provides a very flexible platform for rehearsals as well as performance use. Crestron Control systems provide access to many aspects of the space. This includes projection with the main and two side screens, as well as a camera feeding green rooms and backstage areas. Each area has independent control over their feeds. Feeds are also provided to the foyer including separate audio for preshow and intermission control. Clearcom intercom as well as LED call light systems were included for backstage and greenroom areas. The auditorium went online with the grand opening on October 19, 2017.

Elmwood Franklin School

The Elmwood Franklin School is a private elementary and middle school located in a suburb of the city of Buffalo NY. When they decided to expand their facility to include a brand-new auditorium, AVL was brought in to design both the acoustics and the sound system. The main design goal for this auditorium was to allow use of the space for the unaided performance of both drama and music, and the school also wanted to be able to use the space for unaided day-to-day programs. Voice projection needed to be extremely good to all areas of this auditorium, which is not very deep, but is fairly wide in size. To accomplish these goals, AVL designed a curved radiused ceiling cloud system that evens the projection from the stage into the rest of the room. RPG diffusor block is placed along the back wall to eliminate a focusing echo, and other materials in the room were changed in order to get the reverberation time and the diffusion characteristics of the room to create a well-blended sound from the stage. AVL also worked with ME Engineering on the mechanical designs, and collaboratively produced a mechanical system that is almost totally inaudible. Although the acoustics allow for unaided use of the space, the sound system was designed to integrate with the room in such a way that the time delay from the loudspeakers to the audience and from the stage to the audience is almost exactly the same. This produces an extremely natural sound, so that even when the sound system is in use, it does not sound like it is being used. The sound system uses Soundweb controls, a Mackie portable console, Sennheiser Evolution series wireless microphones, and QSC and Ashly amplification. With the Soundweb controls, the school can use the system on a day-to-day basis for all of their various programs without a sound operator, although they do not have to because of the superb acoustics of the space. The third grade class recently performed "Cindy Lou," a western-style version of the classic Cinderella story. Each actor was able to be heard from every seat in the house without the use of microphones, even when they were facing away from the audience. The school is thrilled with the way that the space has turned out.

Fingerlakes Community College PAC

Project scope included a 600-seat performing arts venue, multipurpose auditorium, and cafeteria with AV capabilities, green rooms, and interconnection to campus TV facilities. AVL was responsible of design of acoustics, electronic acoustics, motorized and counterweight stage rigging, theatrical and house lighting, AV and presentation systems, Green room systems and broadcast connectivity. One unique capability is an electronic acoustical control system that allows changing the acoustical characteristics of the entire space to a variety of environment suitable for many types of performance. Key Elements Acoustic Isolation from adjacent truck docs and parking areas Mechanical Noise Control Electronic Acoustical Architecture (Allows changing of the room acoustics at the press of a button) Motorized And Counterweight Stage Rigging Remote control broadcast cameras HD video ETC Ion Controls and Sensor Dimming

Gananda High School Auditorium

Gananda Central School District was in the process of building their new auditorium when AVL was brought into the project. The shape of the room had already been decided so we worked with the wall and ceiling surfaces for acoustic control. The overall design goals were to achieve a nice, natural sounding space that would have good acoustics for band and orchestral performances without requiring the use of the sound system. To accomplish this, AVL decided to create a relatively mid-range reverberation time and mid-range diffusion characteristics in the room. There were some issues with the ability to place specialty materials into the room due to the previously completed design of the space but we were able to work with more standard masonry and ceiling materials to obtain the desired characteristics. The theatrical lighting system includes two catwalks as well as four electrics and border lights on the stage. All fixtures used in the system are ETC and the system is controlled with a Strand 300 Series console.

Grand Island High School

Grand Island High School had an acoustics problem. Their auditorium suffered with multiple echoes being caused by room geometry. The space also had a frequency imbalance in the 1kHZ- 4 kHz region that was being caused by metal ceiling panels that were undamped. This resulted in a metallic "ring" that almost sounded like electronic feedback. AVL Designs Inc. proposed a solution that used parametric room tuning. Multiple absorptive panel types have been located strategically on the side walls. Each panel type affects different frequencies. The ceiling panels have been damped with a sheet damping material applied to the back of each panel. The architects came up with a color pallet base on our layout. The final result is aesthetically pleasing and performs well acoustically. The music department will be excited to use it this fall.

Greece Athena Performing Arts Center

Greece Athena High School has an award-winning arts department. When Greece Central Schools decided to build a new theater at Athena, it was conceived to be state-of-the-art from the outset. AVL Designs, Inc. was contracted to provide design for acoustics, stage rigging, theatrical lighting, audio, and video. Ceiling clouds and wall "sails" were incorporated to blend and mix the sound in the room. A shape optimized stage shell is used for choral and musical events, providing a diffuse sound field on the stage and projection of the sound into the seating area. The sound system that is comprised of state-of-the-art digital and analog mixing consoles, DSP processing, 24-track digital audio recording capability, and dozens of wireless microphones. The main speaker clusters provide true stereo mix to all seats in the house. The theatrical lighting system consists of two well-conceived house catwalks and five on-stage electrics with 384 ETC sensor advanced feature dimmers. The Emphasis control system utilizes state-of-the-art ETC WYSIWYG 3-D rendering and systems that control a myriad of lighting fixtures with remote capabilities. The stage rigging system is state-of-the-art, utilizing Vortek motorized rigging and controls. Forty-three Vortex units allow exceptional flexibility. A JR Clancy Lambda series orchestra lift with 10-foot travel and 28,000 pound capacity has been provided to allow total flexibility of stage configuration. Video projection with a 10,000 Lumen large screen projector provides theater-like quality even in this large room. The projector is housed in an acoustical enclosure in the balcony face to make it inaudible to the audience.

Hochstein School of Music

The David M. Hochstein School of Music resides in a historical church building in downtown Rochester. Hochstein not only refines some of the best talent in the area, but also hosts numerous theatrical and concert series, including "Noontime at Hochstein," which is simulcast on WXXI Radio. This series includes numerous solo artists as well as the Rochester Philharmonic Orchestra. The stage area had been the original platform of the church. AVL was tasked with designing a new stage area including curtains, rigging, lighting, and support structures, while maintaining the historic nature of the space. Lighting and motorized rigging are entirely concealed with ceiling spaces. Key Elements Radius Custom Designed Space Grid Motorized Curtain and Scenery Support battens Theatrical Lighting Audio Systems Recording and control booths with Broadcast Interfaces

Homer High School

Homer HS has an active theatrical and musical department Which had been operating in an outdated facility. Working alongside a team of engineers and architects, AVL undertook a complete renovation of the auditorium facility. Primary goals included improving room acoustics, providing functional catwalks and lighting galleries, new audio, intercom, video, and theatrical lighting systems. Early in the design phase, locations for the catwalks and lighting galleries were conceptualized, which was a structural challenge. Once they were developed everything else had to evolve around these structures. Using angled panels as well as absorptive and diffusive wall Materials, an acoustical design was fleshed out to make the room appropriate for music and theater. An electronic acoustical stage shell was designed into the space to avoid conflicts in the stage rigging that occur with traditional stage shells. New technical systems were developed to meet the performance needs of the school. Digital audio, lighting, and video controls with wireless remote interfaces were used for control. Techs can now work from the booth or I Pads in the room. Products from ETC, Strand, Midas, Crestron, Christie digital, and JR Clancy were used in this project.

Lakeshore Middle School

AVL Designs Inc.'s first task was to design new stage rigging which would be up to current stands and with as many moving pipes as possible. AVL utilized ETC FlyPipes to accomplish this task. A self-climbing package hoist allowed us to provide a safe, moving solution. The control of lighting and studio was in the balcony, which is not a great location for running a show, so a new control booth was included on the main floor to allow the audio and lighting crew to experience the show from the audience's perspective. New AV systems included main speakers with over and under balcony delays to fill shadowed areas. A new digital console, wireless microphones, projector and screen, and controls were also included.

Liverpool High School Auditorium Extreme Update

This major renovation meant enlarging the entire auditorium, refurbing the music department and adding some additional rehearsal spaces. Working along with the architects, our plan was to include electronic acoustics in many locations. It would not only be the in the auditorium and on the stage, but also in the large rehearsal rooms for orchestra, band and choral ensembles. Singers and musicians would then be able to rehearse in environments similar to what they would experience in the auditorium. That became the initial driving force for the acoustical design. We had to look at how to treat the main auditorium to get the reverb time low enough and flat enough that when we implement the electronic acoustics, there will not be significant problems with frequency balance and reverberation curves. The electronic acoustics system is based on Yamaha acoustic field correction devices. It is implemented with speakers located onstage, in overhead ceilings, in under-balcony ceilings, and on sidewalls. These systems are providing reverberation as well as early reflection support for the room. The system can also add voice lift to allow for events without sound reinforcement. The auditorium was being dramatically enlarged, shaped with curved walls plus adding a balcony. To deal with that condition we developed a custom absorptive diffusive wall treatment. It consists of series of wells of different depths with perforated materials and solid materials, creating a diffuse sound field within the auditorium and generating a relatively low reverberation time for the size of the room. This design criteria was also used for the music spaces to produce similar reverberation curves for their base conditions. That way, when the electronic systems are commissioned, there will be tunings for each space that will mimic each other to the degree that you can mimic a smaller space to a larger space. In addition to the electronic acoustics and physical acoustic designs for this auditorium, AVL Designs Inc. was contracted for stage rigging, theatrical and house lighting, and sound and video in the space. One of the unusual features of the room is the incorporation of Danley Jericho loudspeakers. The Jerichos look huge and indeed are huge, but they are actually a replacement for line array technology that many auditoriums would implement, at a lower cost and a higher performance level. The Jericho combines a large number of drivers in a single large enclosure, creating an output pattern and sound pressure capability similar to a 12 element tall, mid to large scale line array. Admittedly, it looks a little odd to have boxes this big in a high school auditorium however the pattern control over the wide frequency range of the speaker allows it to cover most of the main floor as well as the balcony without the need for other devices. We also installed over and under-balcony delay fill speakers. This was primarily for potential special effects for theater use, and also to add the few frequencies that would be missing as you go by distance to the back of the room. The audio system is fitted with an Allen and Heath D Live console, which is a substitute for a Yamaha console originally specified. (Due to Covid issues the Yamaha console is not currently available) The D Live is a great console and will do a fantastic job for the school in the new application. Theatrical lighting consists primarily of Electronic Theater Control products and High End systems, with some Strand and Phillips fixtures as well. Stage rigging is a combination of Brick House counterweights and Electronic Theater Controls Prodigy hoists. The Prodigy hoists are used for onstage electrics, as well as a front of house moving head electric. All of the music rooms are used as green rooms, so we have a combination of intercom, call lights, and video feeds to each of those spaces from the main auditorium. The transformation from the original room to what it is now is dramatic.

Maine Endwell High School

Mayfield Central School's Performing Arts Auditorium needed to be more than simply a school auditorium. This facility had to be designed for community and professional performances, as well as student productions. Adirondack Park ordinances also imposed height restrictions and access requirements on the building design. The biggest issue that arose in the design were the acoustics of the room. The combination of limited room volume and height dictated the need for a new and creative approach. AVL was brought in to devise this approach because of our unique acoustic solutions. The goals for this space were to achieve good live room acoustics while having the control booth elevated. However, this makes for a more intricate design, because the sound operator needs to hear the results of what is happening on the floor accurately. In order to make that happen, AVL created a ceiling that is probably the first of its kind. This unusual design incorporates ceiling breaks and other radical measures to obtain a reflection pattern that gives the sound operator an overall auditory grasp on what is happening in the seating. The ceiling design is also utilized with the room design to obtain a reverb time and diffuse characteristics of sound that make acoustic as well as electric music sound great. The sound system uses EAW main three-way speakers with subwoofers to obtain a four-way system design, with approximately a dozen wireless microphones incorporated into this system. The control console is a Soundcraft series 2, with digital signal processing that allows for fully automated or manual operation. The system is also able to configure itself for various types of performance options, which permits a good balance of electronic and natural sound. For this space, we also designed a complete stage rigging system and theater lighting system that use catwalks and a fly space above the stage. The rigging system design was affected by the limited height of the space, but the design solution that AVL produced overcame that restriction. The lighting system is a Strand CD-AD that uses an ETC Express console. AVL chose the Express due to its simplicity of use, which we felt would be best for this often used space. The Strand dimming system is a ninety-six channel system with a catwalk cove out in front of the ceiling. The system also has architectural controls for the house lights, as well as theater lighting over the stage. The school is very delighted with the auditorium, as is Tony Rich, the director. Reports following events held there have included many compliments on the system and the room.

McQuaid Jesuit School Performing Arts Center

The challenge: making this space very multi-purpose. McQuaid needed a room that could support choral performances, band recitals, lectures, small musical events and dramatic plays, as well as banquets. In order to accommodate, the room had to be designed with retractable seating, and be visually amenable for both a dining atmosphere and a theater atmosphere. AVL produced a creative and workable solution to accomplish it all. AVL started with the sidewalls of the area in front of the stage. The walls were canted in order to localize the sound and provide lateral energy into the seating area. The side walls beyond that area had to remain parallel (for the retractable seating). These walls required a diffusive character, which was accomplished using RPG diffuser block. This block helps to create a diffuse sound field in the room. Masonry was utilized throughout the rest of the room to provide the needed low frequency response, and the ceilings were tilted to provide positive reflected sound into the upper and lower seating areas. All of the stage curtains are motorized to allow for easy opening and closing. The curtain tracks and wrap-around are at the tightest possible radius for a motorized system, yet they still work very smoothly. The border curtains are used to hide permanent ceiling sections that act as acoustic reflectors over the stage area, as well as some lighting fixtures and parts of the sound system. (Most of the sound system, such as the subwoofers, is concealed in the ceiling.) The border curtains are also motorized making them easily opened when there is an event which needs the acoustic reflectors.

Newfield High School

New Field High School's auditorium was an outdated facility housing a very active theater group. In fact, people at the highest levels of the school administration have contacts who work in theatrical productions in New York city. Those pros come in to operate shows at New Field High School.  New Field needed an update. AVL Designs Inc. was contracted to design new stage rigging, lighting, audio, video, and make room acoustic corrections for the auditorium. The architect was tasked with raising the height of the fly space to make it more usable for productions, as well as adding a balcony and enlarging the entire seating area of the auditorium.  The resulting changes to the room are striking, not only visually but functionally as extensive system improvements have been made. Lighting has been enhanced with LED lighting fixtures as well as additional moving heads. The new audio system is a dramatic improvement. It includes an Allen & Heath D live digital console, expanded wireless microphone inventory, a new sound system, Mains, subwoofers, over and under balcony fills and stage monitoring are included. An electronic stage orchestra shell was provided to enhance sound on stage as well as in the house using proscenium loudspeakers to expand the coverage of the electronic shell into the seating area.  The stage fly space was raised in height and all new counterweight rigging was designed using brick house technology. Although a FOH catwalk is part of the project, it could not be properly located to provide good lighting positions to the pit area. A motorized  FOH batten was included  just below the  catwalks. This batten is populated with moving heads, allowing flexible for forestage lighting.   The new video system is a utilizes an HD laser projector with Crestron controls. Projection is made to a 298" diagonal screen. An HD PT Camera provides video feeds to green rooms and streaming.   Note: Unfortunately, due to the COVID-19 problem, their first show was canceled. As a result, photos of the room were taken with the disarray of an abandoned building, being evident in all of the photos. The cast and crew were told to "leave the building and don't come back" and they hastily left everything behind, just as it was during their show prep and rehearsals. We hope to get better photos of the room when all of this subsides.

North Tonawanda High School

Labella Associates architects in Rochester NY contracted AVL Designs Inc. to provide theatrical design services for the conversion of an existing gym with a stage to a permanent performing art space. AVL provided acoustical design, audio, rigging, and theatrical lighting systems design for the venue.

Oxford High School

Project Description: New Facility; Acoustics; Sound, Theatrical Lighting, and Stage Rigging System Design --- Oxford wanted a performing arts center that was equal to the task of their relatively extensive programs, which include such demanding performances as the upcoming production of The Wizard of Oz. Although the room shape and size were determined by the necessary seating capacity, the architect gave AVL Designs Inc. a great deal of freedom within that design to place materials and shape the side walls and ceilings. The entire space utilizes split-faced block and gypsum, and the shape and angles of the side walls and ceiling work with these materials to produce a well-diffused and well-mixed sound. The space sounds excellent, with or without use of the sound system, and there have been several unaided choral and band presentations in the space that were a testimony to the acoustics of the room. The sound system was designed with a careful integration of precisely placed loudspeakers to the time constant of the original source(s) on the stage. This allows the audience to hear in synchronization with what is actually happening in a performance. Equipment used in the system ranges from EAW AF and JF series loudspeakers, a Crown IQ USMA 10 front end, and an auto-mixing control by IRP to the main Soundcraft console. Built-in day-to-day presets, which can also be controlled from the front of the house, allow users to switch settings as needed. During performances and productions, operators can also change over to various equalization settings quickly. This space also has the ability to tie in performances to a cafeteria area at the rear of the auditorium to provide about another four hundred seats. This is accomplished through the use of a video projector and time delayed EAW MK series loudspeakers, which are integrated with the stage source in the same way that the auditorium speakers are. Even when the sound system is not in use, such as for the aforementioned choral and band presentations, there are stereo microphones in place for use in recording unaided performances. The theatrical lighting system utilizes Wybron color changing fixtures placed in coves to cover the stage. The coves were necessary because catwalks were not able to be included in the space, but the system controls allow a variety of ways to adjust the system without ladders. On-stage, there are four electrics and border lights, and in the rest of the space the house lighting provides an even coverage of thirty foot candles. Due to budget constraints, the district had to implement a dead hung rigging system. Although not what AVL or the district had originally hoped for, the system is set at a median height that can be used with ladders. This allows the school to use the system for all the normal requirements of performance rigging, just without the luxury of counterweights. The school is thrilled with what their new space can do, and there have been many good reports from events held in the room.

Penfield High School PAC

Penfield High School tasked AVL with designing a new auditorium in the footprint of an existing auditorium. The school has an award winning music department and a very active drama and dance program. Acoustic, lighting, audio, video, and stage rigging had to accommodate a divers set of needs. The enlarged auditorium had to encompass a wide variety of performance orientations, including acting from within the audience areas, as well as musical ensembles located on raised side areas in the seating sections. In the acoustical design, extensive use was made of diffusive masonry, to allow curved side walls without the focusing effects normally associated with curves. Ceilings and walls were designed with not only sound from the stage but sound around the room taken into account. A stage shell was included and designed to integrate with the forestage ceiling section to project sound into the house. AVL Designs Inc.'s sound design included a portable large format analog audio console, wireless microphones, and ribbon line arrays. Console portability on wheels allows the engineer to move as needed based on the use of the room. Rolling racks for the console base houses peripheral equipment. Lighting, catwalks and stage rigging were also designed by AVL Designs Inc. A full fly counterweight system with motorized hoist on stage electrics was included. The hoists allow safe changeovers of lighting between shows for this busy venue

Portville Central Schools

AVL Designs Inc. was contracted by the architects, the CPL Team, to provide theater design or updates of the space. First and foremost was the addition of a full balcony. This was no small trick as the space is quite low and budgets did not support raising the roof. The final design, unusual in nature, works very well. An empty space under the balcony structure provides an environment that is acoustically more open, even though the front edge is low. Under-balcony lighting was also a challenge and required using an atypical fixture. Stage rigging also required unique options, as the height is quite low. Innovative rolling track wing masking, a motorized Cyc rollup system, and other features provide a far more useable stage area. A front-of-house motorized truss has been added to make lighting more accessible, as opposed to the prior dead hung pipe system. Sidewall torms have been added to light the floor in front of the stage for choral and other uses. The room has been acoustically enhanced by raising the reverberation time and balancing the frequency response. This has been accomplished almost invisibly within the architectural design.

SUNY Albany Performing Arts Center

AVL was contracted to provide a series of phased improvements to the PAC theater and adjacent theater spaces. The project involved replacement designs for stage rigging, lighting, dimming and control systems. The project also required replacing historical lighting that edge lights the filigree ceiling lighting. The intent of the filigree ceiling lighting was to recreate the look in LED, with higher output. AVL did several simulations in house to find a solution that duplicates the look of the incandescent marquee lighting that was a key architectural element in the room. House lighting in the space had always been spotty, as the marquee lighting did not really provide adequate lighting in the seating area. AVL Augmented the Led design with additional hidden down lighting that did not impact the historical ceilings. The combinations of the two systems provides even lighting of the seating planes. The upgrades to the PAC improved the safety and function of the space without impacting the historical nature of the original design. • LED Filigree Edge Lighting & Downlights • Stage Rigging Upgrades • Dimmer

Victor High School Auditorium

Victor HS Auditorium Reconstruction • This project involved a major reconstruction of an existing auditorium including: • Raised Roof Over stage - Fly Space and new rigging. • New catwalks • New stage rig ging system • New theatrical lighting system • New audio system • New video presentation system an controls • Acoustical correction • AVL provide design for all of these elements and consulting for general design criteria for the space.

Waverly High School

Waverly High School's aging auditorium was in need of a complete overhaul. Acoustics, audio, lighting, and AV all required attention. To allow for new mechanical systems the room was gutted to structure and an entirely new auditorium designed inside the existing building envelope. AVL Provided computer modeling and analysis as well as design for room acoustics, stage rigging, lighting, audiovisual, green rooms, and related systems. Key Elements • All LED House Lighting – A low cost solution was implemented using easily upgrade LED elements. Exceptionally even lighting coverage was provided. • New dimming and Lighting Controls • Acoustical Design – New Ceilings and walls were designed to optimize natural acoustic. • HVAC noise Control and criteria • Audio Systems – Systems based on Danley Synergy Horn technology provided a dramatic upgrade to audio quality within the auditorium. • HD Video and Digital Media

Williamsville Central School District

Pictured here: East High School, South High School, Transit Middle School and Mill Middle School of the Williamsville Central School District. Auditoriums are being renovated to varying degrees. Acoustic improvements and sound system enhancements are being rendered for all of the auditoriums. Some are even getting new stage shells and stage rigging. Music classrooms are being renovated and many new, large rehearsal spaces are being built. We will continue to update with the progress of each project and more images.