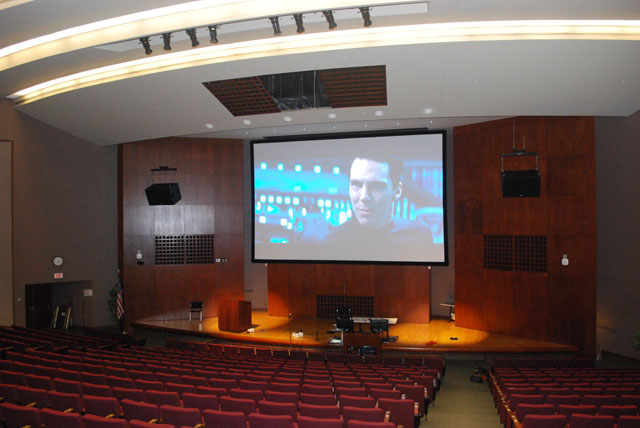 Cornell University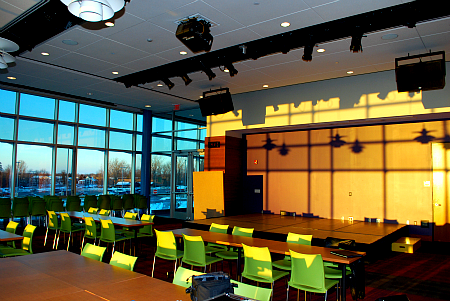 Finger Lakes Community College Multi-Purpose Space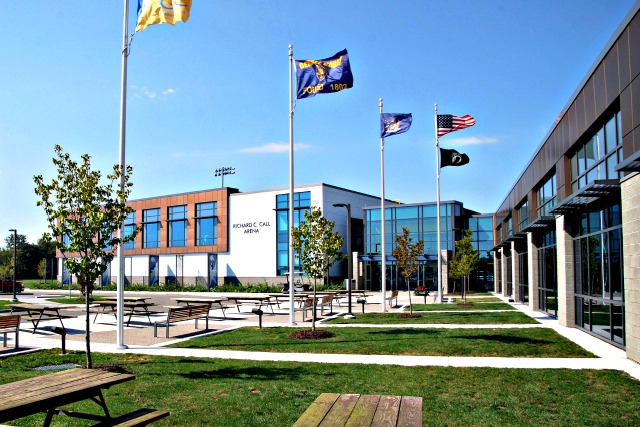 Genesee Community College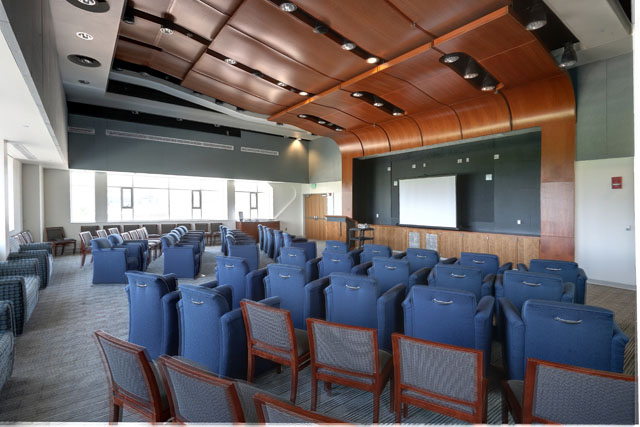 Ithaca College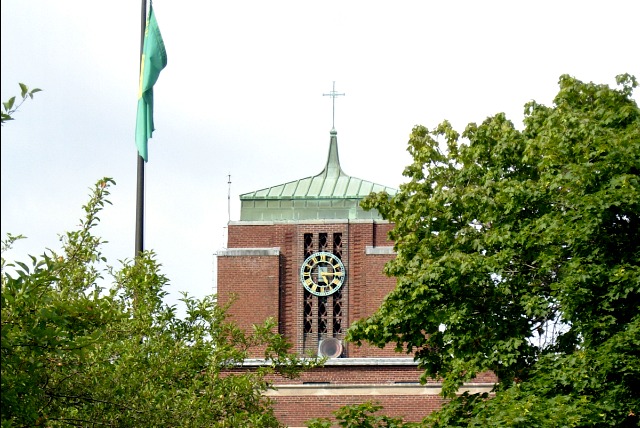 Lemoyne College - Grewen Hall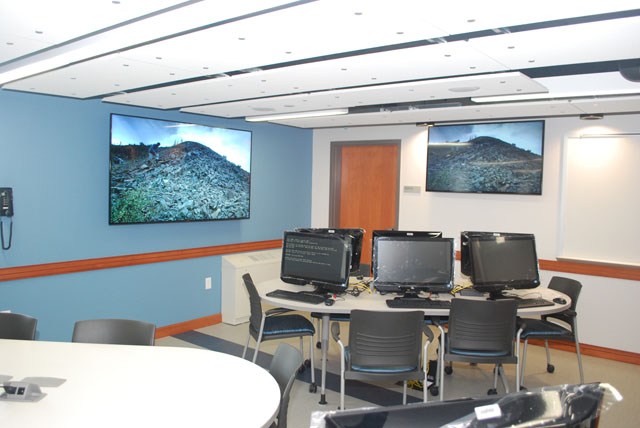 Lemoyne College - Science Building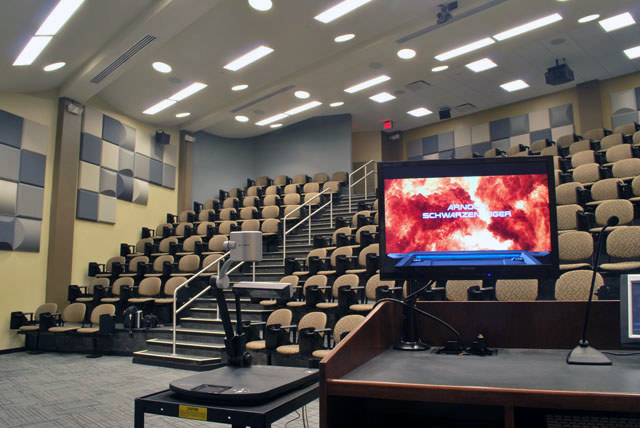 Penn State University - Woodland Hall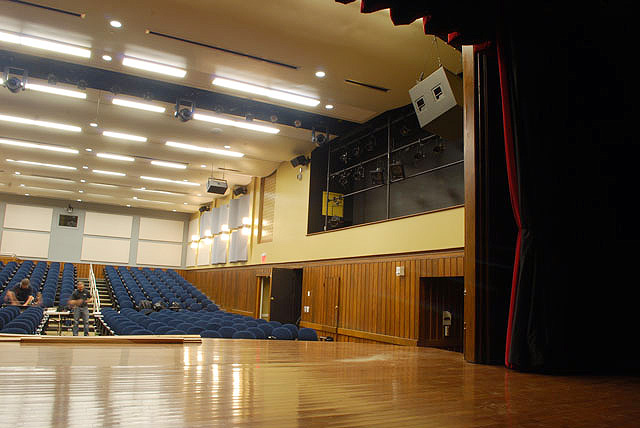 Penn State University - Sutherland Hall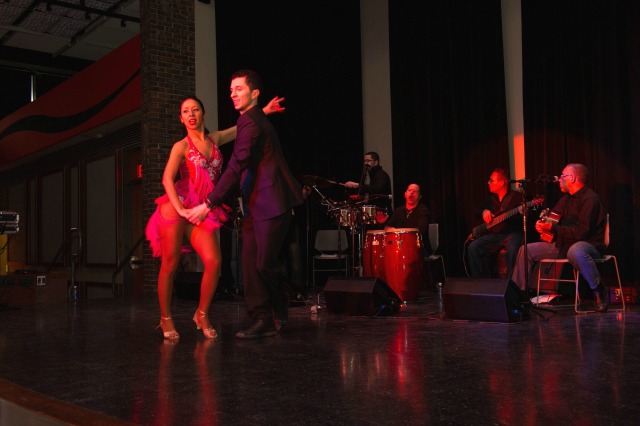 SUNY Buffalo Campbell Student Union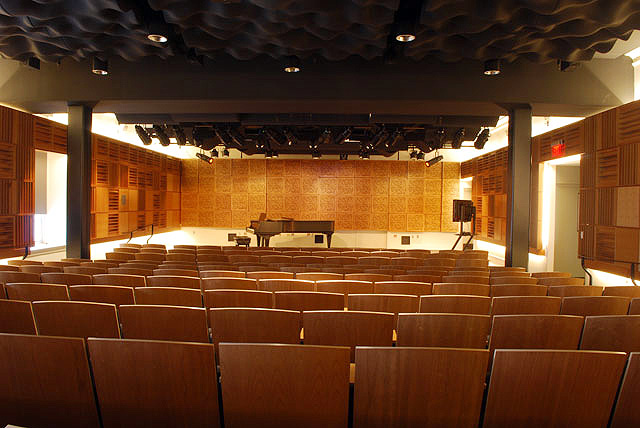 SUNY Buffalo Ciminelli Recital Hall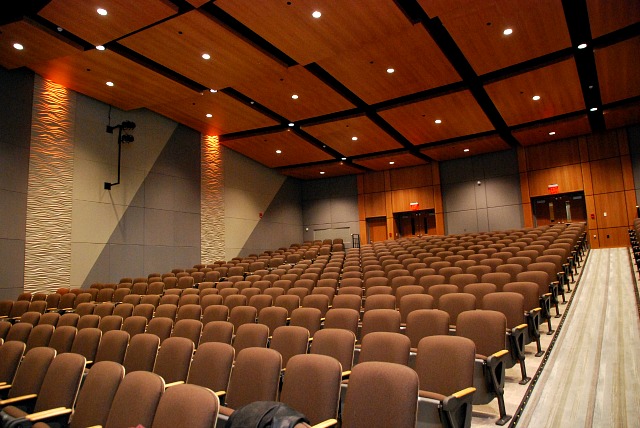 SUNY Cobleskill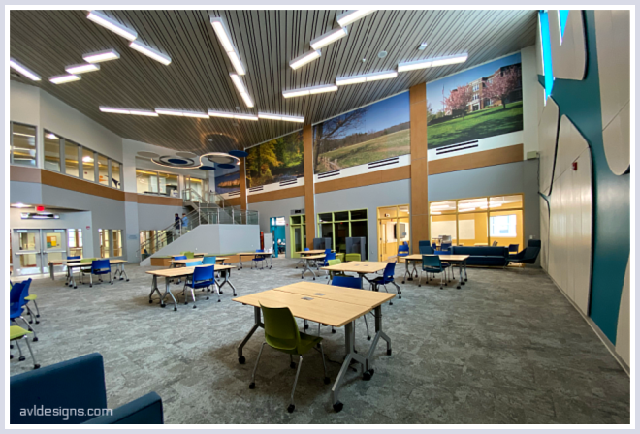 Webster Spry
Cornell University

Kennedy Hall - a large lecture space - is a heavily booked venue at Cornell University in Ithaca NY that must accommodate many types of AV presentations. Individual professors had been bringing in a myriad of portable equipment to meet their needs. This necessitated a significant amount of support for the room for each use and set up. The goal of the project was to consolidate all of the needs into one system with a user interface that would minimize the need for technical assistance. A series of meetings were held to determine the requirement for the systems, budgets, and general goals for the look and feel of the space. Multi-image capability was a common theme and a variety of scenarios were explored to provide for this capability. A key decision was made to utilize one very large fixed screen instead of multiple smaller motorized screens for multi image capabilities. Using digitally mapped projectors, the system can create one very large very bright image, or multiple images in a variety of screen sizes. The use of dual overlapping projectors also provides redundancy in case of failure. The final design included LED presenter lighting, digital audio controls,audio systems, HD video with multi image processors, streaming, capture, and video conference capabilities.

Finger Lakes Community College Multi-Purpose Space

AVL was contracted to provide design services for a large multipurpose space at Finger Lakes Community college. The space is truly multipurpose being used for classes, media presentations, awards ceremonies and musical events. This facility has many users of varying skill levels. A multitier control system was implemented allowing each users group to access what they needed, and not be burdened with controls they did not need for their application. Audio, lighting, and video capabilities range from almost automated for some users, to operator-based controls for more complex events. An adjoining dining space is connected for expansion spaces via audio and video when larger events exceed the capacity of the primary room.

Ithaca College

The Ithaca College Gateway Building lecture space is used for a multitude of functions – student orientation, marketing, and lecture. AVL was contracted for acoustical design, video, presentation controls, lighting design/controls, and audio design. A central element is a full HD video wall with the ability to display multiple preset configurations of video sources anywhere on the screen. The control system allows users simple access to all AV and lighting systems in the room in a simple users GUI interface.

Lemoyne College - Grewen Hall

Lemoyne College Grewen Hall. AVL has been working with Le Moyne College for a number of years on many successful projects including classrooms, medical wings, science buildings, performance spaces and other parts of the campus. The most recent project was a renovation of a large lecture hall in Lemoyne's oldest and largest building: Grewen Hall. AVL Designs Inc.'s role in the renovations was for the acoustical design as well as audio visual design. The wood panels pictured here are an assortment of excellent acoustical products, some absorptive, some reflective, chosen for their unique functions. The AV system features a Crestron control system and Panasonic projectors. All in all, the end users have been very pleased with the results.

Lemoyne College - Science Building

AVL was involved in two contracts for Lemoyne's Coyne Science Building project. First, we were hired by the architect to perform acoustical design and review for the addition. The college also contracted AVL directly to design AV systems for the addition and a renovation to the existing building. The total work encompassed multiple lecture halls, labs, and innumerable classrooms. AVL was also contracted to provide design for two additional building at LeMoyne including providing an automated sound system design for the college chapel. • Acoustical Modeling Analysis and Design • Teaching Station Design • AV systems design including multi screen surround sound lecture halls. • Edge Blended Projection systems • Infrastructure design • Sim Lab medical systems

Penn State University - Woodland Hall

Woodland Hall houses a large lecture hall used for many forms of instruction with the need for extensive AV capabilities. An upgrade was required to accommodate HD video, surround sound, and multi media for a multi faceted faculty using the space. An acoustical upgrade including a new ceiling system, HVAC noise control, and wall treatments were included in the design. Following the upgrades, the room now can be used for lecture by a presenter without a microphone. For those wishing to use microphones, an automated sound system was part of the project. A 7:1 surround system. HD video projection, and touch screen controls that allow presenters or operator access to all system functions.

Penn State University - Sutherland Hall

Sutherland Hall at Penn State University's Abbington Campus houses a classic show box recital hall with a stage which had been converted into a lecture hall. The university wanted to improve the space to accommodate a wide range of activities including: theater, music, rock concerts, and multimedia events. This called for challenging upgrades to acoustics, stage rigging, lighting, audio and AV systems. One of the more difficult aspects was installing all of this all to a wood framed building. Also included in the upgrade was a second space: a swimming pool converted into a lecture hall. Features: • Acoustical Design including optimized waveforms • New Audio system capable of high definition and high sound pressure • level – Danley Sound Labs Speakers and Subwoofers • Multi-tiered audio controls including automated and manual digital • consoles. • New ETC dimming systems, controls and LED lighting • New Stage rigging and motorized Cyc System

SUNY Buffalo Campbell Student Union

Campbell Student Union hosts a wide variety of activities including national musical acts, fashion shows, lectures, dance performances, dinners, DJ dances, movie nights, conventions and roller skating. Previously it had been necessary to bring in rental systems on an event-by-event basis. AVL was contracted to design in house systems to handle all of the activities, with a controls system that could accommodate the wide variety of user skill levels. Key Elements: ● Acoustical Control ● Color Changing LED lighting – With show control, day-to-day architectural controls, and automated DJ affect controls. ● Concert capable sound reinforcement as well as automated distributed audio for lecture and other events. ● HD video and theater audio. ● Stage Rigging.

SUNY Buffalo Ciminelli Recital Hall

AVL was tasked with providing a recital hall with excellent acoustical qualities within an existing building that posed significant challenges. The space chosen was height-limited and too long for its width and height. The intent was to provide a similar listener experience for all seats, and a sense of warmth and envelopment of sound that is usually found in much larger spaces. The decision was made early in the project to incorporate physical acoustics as well as electronic acoustical enhancement. The physical acoustics were designed as highly diffuse to prevent energy buildup within the narrow confines of the space. A custom designed 3D moveable diffusive absorptive wall at the back of the stage covers the entrance to the green room. The electronic systems are used to add extension to the reverberation time and frequency range that would no be possible physically. The electronic system specified was Yamahas AFC 3. The electronic system also offered an added capability – extensive surround sound capabilities for electronic music. With a matrix of 52 speakers as well as subwoofers, located on the sides and overhead, the system allows panning and movement of sound within the matrix. Dante network control allows access for electronic musical programming across all speakers. The spaces is also used for distance learning masters classes and is equipped with a video conferencing matrix capable of connection many remote sites simultaneously with high speed low latency access. A connected recording Studio allows events in the Ciminelli Hall and the larger performing arts center within Rockwell Hall to be recorded.

SUNY Cobleskill

We recently completed a multi-faceted project at the State University of New York at Cobleskill. The project consisted of a renovation of a lecture hall and a gymnasium field house. The lecture hall space is now being used for more multipurpose events including music, standup comedy, small theater presentations and video conferencing. AVL Designs Inc. was contracted by the architect to provide acoustic design, audio system design, stage rigging, curtains, lighting and controls as well as video presentation capabilities for their new lecture hall. Before and after photos show you the extent of the renovation, which was substantial. In essence, it was a "full gut" of the space. The gymnasium/field house had two issues. One was extremely live acoustics making the room unsuitable for many uses. Graduation and other events are performed in the gymnasium and the sound quality was quite poor. The primary reasons for this were twofold. One contributing factor was the acoustical condition of the room and the other was the sound system itself. The old system suffered from poor intelligibility due to comb filtering. This was a result of a poor design not poor devices. The new design includes Danley loud speakers which are used for both bleachers and general court area audio. A fully distributed system over the court is used for events such as graduation. Acoustical treatment has been added throughout the gymnasium to reduce reverberation time and to minimize first reflection energy from the sound system. Both spaces were ready for use early this year and have been well received by the clients and their guests.