WXXI TV reached out to AVL Designs Inc. to design the interior acoustics and assist with noise control in their product 225 control room. They had recently purchased an AVID S4 Yukon console for the suite and wanted a control room that provided a better mix environment.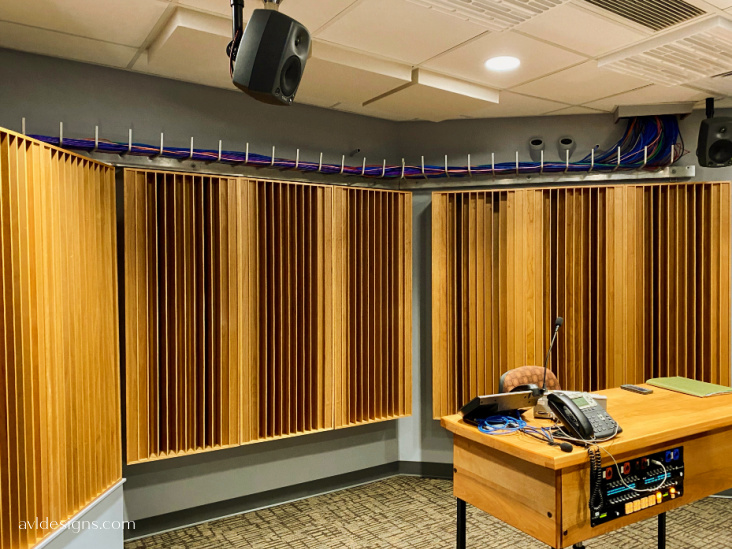 LIMITED HEIGHT The space is an unusual shape with some features that cannot be changed. The oddly trapezoid room with one glass door to the side of the mix position, and a large window to the live room that could not be relocated, was limited in height. It also had an electrical panel that could not be covered for code reasons.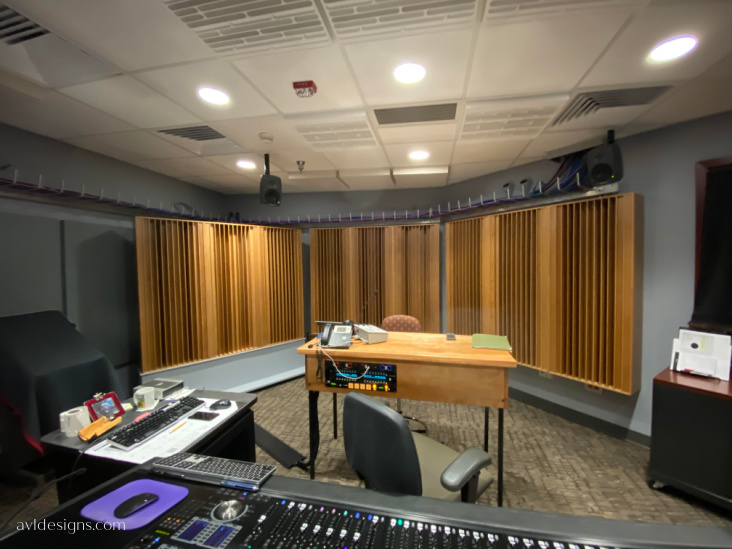 NOISE The first order of business was HVAC noise control. The background in the space was NC 40+. Ductwork design was what you see in office spaces, not studios. Working with their mechanical contractor we determined to enlarge ducts, change diffusors, move VAV's, and control velocities.  The result ticks in at NC20.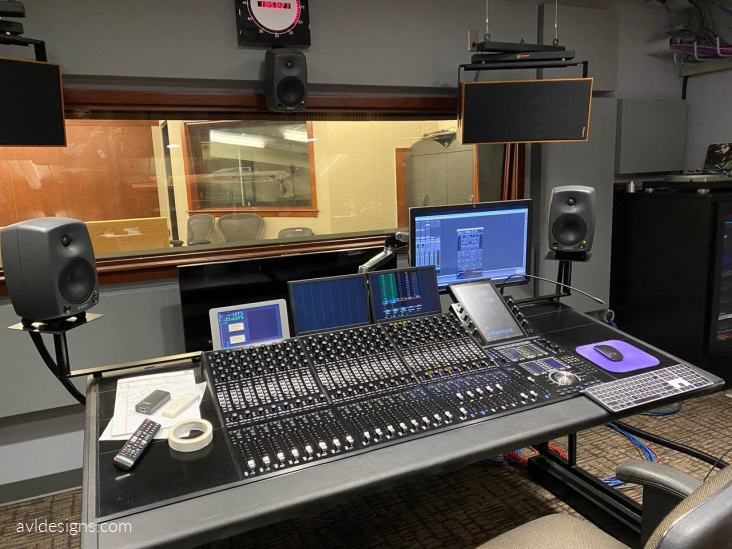 LAYOUT The new space was to have a mix position and a client listening position in the rear of the space, where it narrows considerably in a "V". To even out response, we determined to use high order quadratic diffusors on the back wall. An electrical panel presented a problem. It could not move and had to be accessible. Some of the broadband quadratic diffusors were designed into a custom designed rolling cart. This allows them to go over the electrical panel but be legal as they could be moved. This allowed matching the rear sides of the space with broadband diffusion. GUD high frequency diffusors on side walls and the ceiling over the mix position to enlarge the mix image area back to the client desk. The sound at the client desk is just as linear and only down in level by 3dB from the main mix position. All products were from Real Acoustix LLC. Due to the door location and the "V" in the rear of the room, typical placements for bass traps were negated. We decided to use bass traps within the celling system, a bit unusual but it worked. Overall response is very linear, and only two subtle filters were used to final tune the Rogers LS3 main speakers.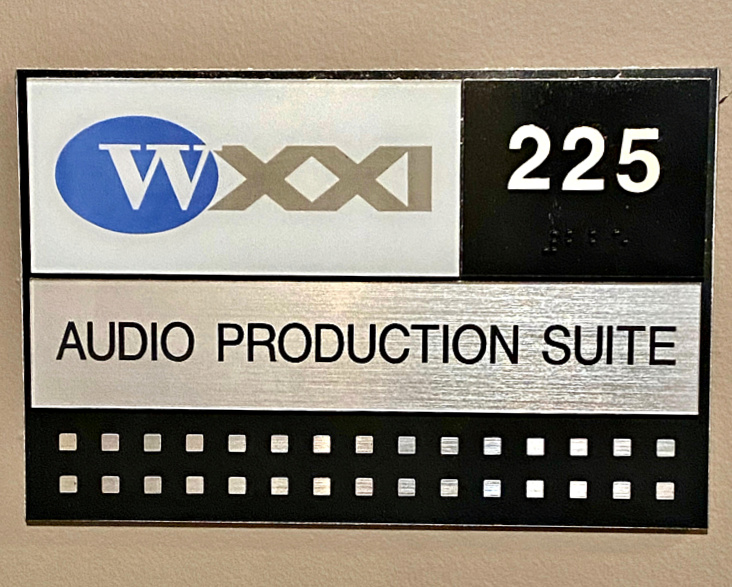 One note:  Most of the install was done by in house WXXI audio engineers. Andrew Croucher and his team did a spectacular job on this mix suite.
Andrew Croucher – WXXI
Paul Houndt – Carpenter (Contractor)
Greg Carter – WXXI
David Lot – WXXI
Russell Roby – WXXI
Bryan Agnello – WXXI
Ruth Watson – WXXI
/
Do you know we are on YouTube? Stop by. Subscribe and you will be notified when new videos post.
Copyright AVL Designs Inc 2022+
Read More