AVL Designs Inc. first became involved with the Liverpool Central School District in 2007. We were asked to investigate echo problems in their auditorium. When someone would play a snare drum or any other percussive instrument on the stage, you could hear 7 to 12 discrete echoes that were hard to miss. It was like bang…… bang, bang, bang, bang, bang, bang, bang. Of course, this was a problem. The echo occurred in certain areas of the room, not every area of the room, but it was so noticeable that this defect got in the way of most musical performances.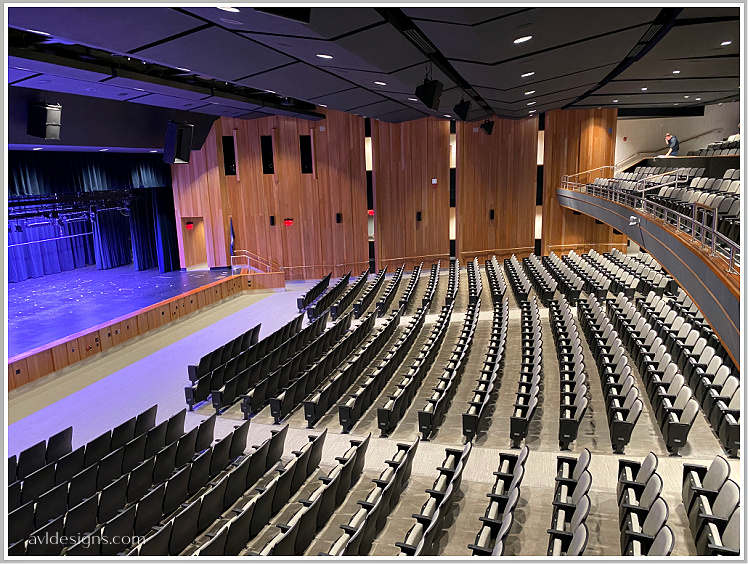 We corrected this by testing the space and then placing specific acoustical panels on sections of ceilings and side walls, effectively eliminating those echoes. When you add absorption to a room, you lose some of the liveness. It is an inevitable trade off when getting rid of the echoes. You lose some of the reverberation.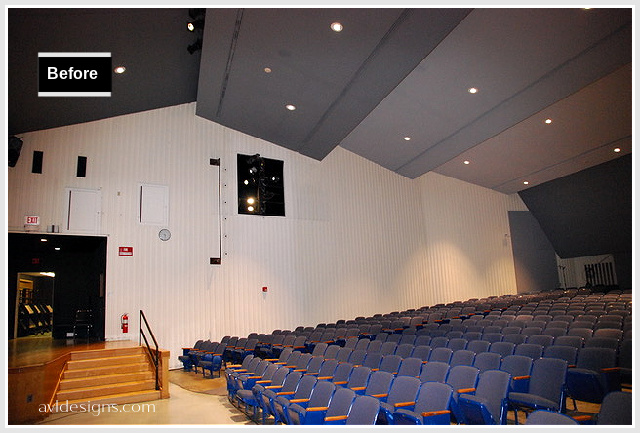 In the process of time, we talked with the school district about other corrections that were available in the realm of electronic acoustics, which we have done successfully for other schools. After meeting with the music department, we decided to implement an electronic acoustic system in the space. Due to budget constraints, it was ceiling installation only. No side walls, no stage shell, but it was designed to allow a much more immersive sound quality for certain kinds of music.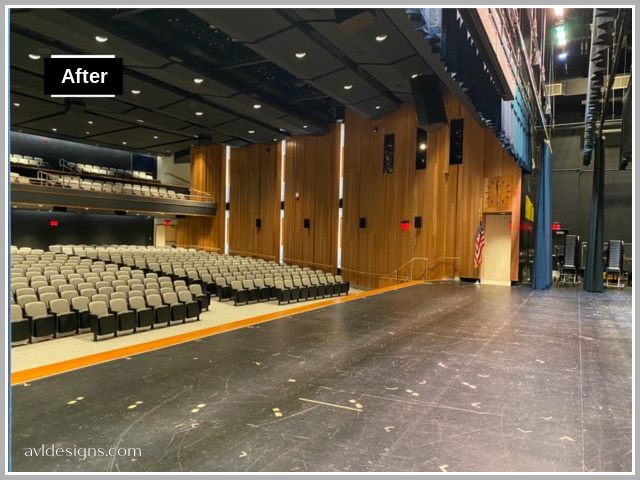 The room was lacking low frequency response. The reverb time was around one second in the midrange, and it needed the ability to go to higher reverberation times for certain styles of music and types of theatrical performances. Once the system was installed, the school was thrilled. They were so enthused about it that they became a major proponent of this technology, sharing their experience with other schools we met with in the future.
As 2016 arrived, a major renovation was planned for the Liverpool Schools. They were enlarging the entire auditorium, refurbing the music department and adding some additional rehearsal spaces. As a result of our prior experience and success with their existing auditorium, AVL Designs Inc. was brought in along with the architect, on the early stages of this project.
Electronic Acoustics added almost everywhere.
There were a number of goals for the project, the first of which was to include electronic acoustics in many locations. It would not only be the in the auditorium and on the stage, but also in the large rehearsal rooms for orchestra, band and choral ensembles.  That way the singers and musicians would be able to rehearse in environments similar to what they would experience in the auditorium.
Electronic Acoustics Explained VIDEO
So, that became the initial driving force for the acoustical design. We had to look at how to treat the main auditorium to get the reverb time low enough and flat enough that when we implement the electronic acoustics, there will not be significant problems with frequency balance and reverberation curves.
The electronic acoustics system is based on Yamaha acoustic field correction devices. It is implemented with speakers located onstage, in overhead ceilings, in under-balcony ceilings, and on sidewalls. These systems are providing reverberation as well as early reflection support for the room. The system can also add voice lift to allow for events without sound reinforcement.
Bigger auditorium, curved walls and NEW balcony.
The auditorium was being dramatically enlarged, shaped with curved walls plus adding a balcony. To deal with that condition we developed a custom absorptive diffusive wall treatment. It consists of series of wells of different depths with perforated materials and solid materials, creating a diffuse sound field within the auditorium and generating a relatively low reverberation time for the size of the room. This design criteria was also used for the music spaces to produce similar reverberation curves for their base conditions. That way, when the electronic systems are commissioned, there will be tunings for each space that will mimic each other to the degree that you can mimic a smaller space to a larger space. In addition to the electronic acoustics and physical acoustic designs for this auditorium, AVL Designs Inc. was contracted for stage rigging, theatrical and house lighting, and sound and video in the space.
Huge Speakers? Here's why …
One of the unusual features of the room is the incorporation of Danley Jericho loudspeakers. The Jerichos look huge and indeed are huge, but they are actually a replacement for line array technology that many auditoriums would implement, at a lower cost and a higher performance level. The Jericho combines a large number of drivers in a single large enclosure, creating an output pattern and sound pressure capability similar to a 12 element tall, mid to large scale line array.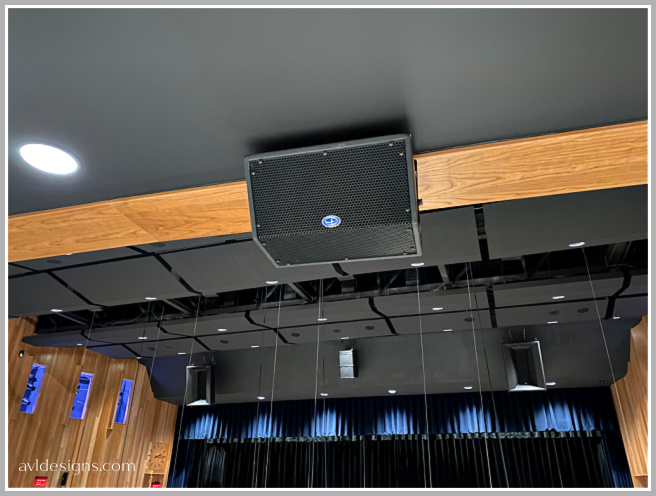 Admittedly, it looks a little odd to have boxes this big in a high school auditorium however the pattern control over the wide frequency range of the speaker allows it to cover most of the main floor as well as the balcony without the need for other devices.
*We did, however, install over and under-balcony delay fill speakers. This was primarily for potential special effects for theater use, and also to add the few frequencies that would be missing as you go by distance to the back of the room.
The audio system is being fitted with an Allen and Heath D Live console, which is a substitute for a Yamaha console originally specified. (Due to Covid issues the Yamaha console is not currently available) The D Live is a great console and will do a fantastic job for the school in the new application.
Theatrical lighting consists primarily of Electronic Theater Control products and High End systems, with some Strand and Phillips fixtures as well.
Stage rigging is a combination of Brick House counterweights and Electronic Theater Controls Prodigy hoists.  The Prodigy hoists are used for onstage electrics, as well as a front of house moving head electric.  
All of the music rooms are used as green rooms, so we have a combination of intercom, call lights, and video feeds to each of those spaces from the main auditorium.
Quite a few of these systems are not fully online due to product availability problems in the current post-Covid world that we are living in. We hope to get all of them online toward the end of the year. The owner is very impressed with the space currently. They will be really excited when all of the final details are worked out. The transformation from the original room to what it is now is dramatic.
/
Copyright AVLDesignsInc 2022+
Read More